Submitted by Steve Irons on Sat, 23/05/2020 - 11:01am
Submission made to Melinda Pavey Minister for Water, Property and Housing
https://www.nsw.gov.au/nsw-government/ministers/minister-for-water-prope...
May 22, 2020, 9:40 PM (13 hours ago)
on
Changes

needed to the

rules on how our rivers will be managed for the next 10 years
1)

   

Synopsis
This submission calls for the introduction of borders, frontiers and boundaries, creating a new regionalism in Australia called FOWTOR. It draws consequential regional boundaries based on the Flow Of Water (FOW). Each boundary is found at the Top Of Ridge (TOR) for each new region and includes maritime boundaries. This results in meaningful communities and meaningful border crossings both on land and at sea, that can more easily deal with the impact of existential crises being experienced from impacts on the evironment happening around the nation, and around the world, by taking out the absurdities over the next ten years of existing arbitrary State boundaries.
2)

   

Concept
The FOWTOR (Flow Of Water Top OF Ridge) Model (© Steve Irons, 2007) submitted to the 1000 people get together in Canberra 2008 is what has been used to draw the map of Australia on the front page of http://bloggerme.com.au/.
3)

   

Introduction – This submission is an attempt at a game changer
This policy initiative is a recognition that across Australia at present we have a lack of policy initiatives and future thinking:
1.     Management and control of environment, river systems, global warming, impact of bushfire and readiness;
2.     Many are suffering and have no idea of what to do to make things better;
3.     Many have turned off;
4.     But the recent attempt at a plebiscite by the Federal govt on SSM and the voting achieved on the ABS survey proves that a majority is willing to vote for a better future if it is something that captures their imagination;
This submission is an attempt to throw something new into the policy initiatives, capable of generating some real interest in the future of the regions around Australia, and the future of Australia generally. It is prepared on
Albert Einstein is widely credited with saying, "The definition of insanity is doing the same thing over and over again, but expecting different results."
4)

   

Objectives
In this submission I have adopted the FOWTOR Model because it provides us with a way of dividing up Australia in a real way, that will always make sense, and will not be subject to change because of political whim or new centres of power and influence, that the current political arbitrary divisions of Statehood cannot provide.
5)

   

The FOWTOR Model
Regions based on the Flow Of Water are detailed, as follows:
This picture here is an overview showing a key region. For a working copy allowing interaction with 31 regions go to https://www.bloggerme.com.au/
6)

   

The FOWTOR Policy Initiative - Resulting regions
If you divide up the continent based on the Flow Of Water (FOW), the following regions become obvious:





 

No




 

Region




 

Capital




 

River System




 

Geographic definition




 

1




 

Van Dieman




 

Darwin




 

ABCDEF Basin




 




 

2




 

East Arnhem




 

Nhulunbuy




 

Aligator Basin




 




 

3




 

Mataranka




 

Katherine




 

Roper Edith Basin




 




 

4




 

Borroloola




 

Mornington Island




 

Robinson McArthur Basin




 




 

5




 

Wurung




 

Mt Isa




 

Leichhardt Albert Basin




 




 

6




 

Carpentaria




 

Cloncurry




 

Norman Flinders Basin




 




 

7




 

Keer-Weer




 

Weipa




 

Keer Weer Basin




 




 

8




 

Cook




 

Cooktown




 

Endeavour Basin




 




 

9




 

Mareeba




 

Cairns




 

Herbert Basin




 




 

10




 

Charters




 

Townsville




 

Belyando Basin




 




 

11




 

Capricorn




 

Rockhampton




 

MIBM Basin




 




 

12




 

Boonah




 

Brisbane




 

Brisbane Bremer Basin




 




 

13




 

Casino




 

Lismore




 

Clarence Basin




 




 

14




 

New England




 

Armidale




 

Manning McLeay Basin




 




 

15




 

Sandy Hollow




 

Newcastle




 

Hunter Valley Basin




 




 

16




 

Narrabeen




 

Sydney




 

Hawkesbury Nepean Basin




 




 

17




 

Cape Howe




 

Merimbula




 

Bega Basin




 




 

18




 

Portland




 

Launceston




 

Tamar Esk Meander Basin




 




 

19




 

SE Cape




 

Hobart




 

Derwent Basin




 




 

20




 

Sandy Cove




 

Devonport




 

Mersey Basin




 




 

21




 

Wonthaggi




 

Melbourne




 

Yarra Barwon Basin




 




 

22




 

Menindee




 

Adelaide




 

Murray-Darling Basin




 




 

23




 

Uluru Central




 

Alice Springs




 

Sandover Eyre Basin




 




 

24




 

Great Australian Bight




 

Kalgoorlie–Boulder




 

Officer Basin




 




 

25




 

Nyabing




 

Albany




 

Kalgan Basin




 




 

26




 

Kwinana




 

Perth




 

Swan Margaret Basin




 




 

27




 

Meekatharra




 

Geraldton




 

Lyons Basin




 




 

28




 

Murujuga




 

Carnarvon




 

Gascoyne Basin




 




 

29




 

Marapikurrinya




 

Karratha




 

Yule Shaw Basin




 




 

30




 

Fitzroy Crossing




 

Broome




 

Fitzroy Fraser Basin




 




 

31




 

Wyndham




 

Kununurra




 

Victoria Ord Basin




 
To give this form of Regionalism real political meaning across Australia, two Senators would probably need have special consideration for each of these regions, (which would include some consideration for properly defined super-regions, sub-regions, etc.).
However, cooperation by States and Territories could get this model adopted immediately, under COAG.
COAG could have a special conference to discuss the serious implications of all States and Territories, deciding to cooperate to adopt a plan to take us through to 2031 (ten years).
COAG would have the power to adopt a wide-ranging full FOWTOR model with all States/Territories signing off on associated development plans per region.
There would be no requirement for referendum(s) to change the Constitution(s), unless there was a plan to abolish the States/Territories and replace them with the Regions defined by FOWTOR. Even if that was the intention, the overall plan would probably be more achievable by COAG going in this direction in the first instance, to see where it takes us.
7)

   

The FOWTOR Policy Initiative – Basic regions
A 'Region' under FOWTOR is a permanent area of land and sea that has a boundary that goes from the 'top of the ridge' (TOR) of a river system and includes all flow of water (FOW) (or possible FOW during flood etc. for that region) until it reaches the sea and includes water flowing out to sea from that river system. 
The amazing thing is, if you map the continent based on this simple definition, it continually defines a region that has unique properties and characteristics similar to no other region on the continent.
This means that governmental policy related to a FOWTOR region is very particular to that region. It assists policy initiatives, not just for water, but for proper governance, and or for real changes that are about to occur in the next ten years. This could arise because of the need to recognise a 'place' or an 'issue' important to the future of Australia, such as climate change and associated issues such continuous reduction in precipitation over time, changing wind, rising sea levels, etc.
People who live in every FOWTOR region know that region well. This is because the towns they grew up in were located on their particular river system because they needed that river system to survive, in the most arid continent on the planet. Almost all major cities ('capitals' in FOWTOR) in the region we find at the mouth of the river system, (with a couple of key exceptions), based on FOW, for good reason. This means that a huge number of people living in 'capitals' will be affected by rising sea levels.
This means that policy initiatives in a FOWTOR region will be well understood by those living in the region in a way you could not assume for current States/Territories (especially large ones) making them more easily assessed in terms of social cost and benefit.
A FOWTOR policy initiative is a bit like the current focus on City Deals, just on a larger scale with more broad-based, long term objectives, than those we are experiencing at present. Federal government engagement in FOWTOR deals could be achieved by assigning 2 Senators to oversee the FOWTOR region and report back to a FOWTOR Committee in the Senate. COAG could also engage key State/Territory ministers to oversee FOWTOR deals and report back to COAG. Current City deals could be enhanced and/or replaced by every 'capital' under FOWTOR required to have a FOWTOR deal, as mandatory, but this would apply not just to the city but to the whole region.
Huge changes are expected over the next ten years to every FOWTOR region in the country.
It goes without saying that in the next ten years every FOWTOR region will experience unique changes, different from every other region.
It goes without saying that there is no benefit for those living in a particular FOWTOR region to have his/her requirements arising from those changes over the next ten years amalgamated with those of other regions so they can be overlooked and forgotten about as less important than others.
8)

   

The FOWTOR Policy Initiative – Resulting super-regions
A 'Super-Region' is a permanent grouping of Regions where more than one Region needs to act in concert, for proper governance or for real changes to occur. This could arise because of the need to recognise a 'place' or an 'issue' important to the future of Australia.
The Super-Region is defined by COAG, agreed to by the Senate, introduced into the Senate, and passed by the House of Representatives. A Super-Region has one Senator assigned by the Senate to represent the Super-Region. This Senator will have need to collaborate and work with the two Senators for each region contained within the Super-Region. This ensures that the Super-Region will be dealt with seriously by the Senate and the member Regions will have extra role to play in the dealing with those places and issues in the governing of Australia.
The 'Super-Regions' could include:
Just shown for explanatory purposes. COAG and the Senate would need to cooperate to make this meaningful. But the prospects are amazing if operated with proper planning and reporting using current best practice (CBP).
https://en.wikipedia.org/wiki/Great_Artesian_Basin
http://www.agriculture.gov.au/water/national/great-artesian-basin
See also https://www.bloggerme.com.au/map-great-artesian-basin
There are important Super-Regional requirements not mentioned here, because the arrangement will need to be worked out. Fishing, for instance, may result in a number of Super-Regions, depending on the need for various Regions to act in concert, to protect the maritime environments around Australia. Zones may overlap; so a Region may be involved in more than one Super-Region, on a particular issue.
An issue that affects all Australians, such as foreign policy, defence, border protection, is usually a Federal Government issue, but not always. The Super-Region 'All Regions' is where there is clearly a 'Regional' issue but it applies to all Regions, or requires all Regions to act in concert for the plan to proceed. A good example is fishing; fishing is obviously, and needs to be, Region-based1 but all Regions need to act in concert in relation to protection of the border from poaching from international waters.
9)

   

The FOWTOR Policy Initiative – Resulting sub-regions
Under FOWTOR, the 'Sub-Region' is a permanent grouping of territories within a region (that is a river system) around a river that flows into another river, This could be recognised by the Senate where more than one river system needs to act in concert, for proper governance or for real changes to occur. This could arise because of the need to recognise a 'place' or an 'issue' important to the future of Australia. The Menindee Region (2007) is the same as the MDBA (2012).
For interactive version of Menindee region with sub-regions go to https://www.bloggerme.com.au/states/menindee
Some Notes:
Because the State boundaries have been so arbitrary, political, and meaningless to le voisinage between communities, any so-called borderland has in the main part also been arbitrary and meaningless. See, for example, the list of bordertowns along the Murray:
http://www.murrayriver.com.au/river-towns/murray-river-towns/
And where this lack of focus on borderland was meaningful, it could even be damaging to le voisinage.
For example the boundaries between NSW, and Victoria, determined mostly by the most important flowing river in Australia, set up a boundary of meaningless nonsense, that had huge implication on the communities that it flowed through.
It divided the borderlands going down the river into two arbitrary sub-divisions. Towns naturally formed on the river because they needed the water that it provided to survive. But communities living on either side of the river lived under different State laws and jurisdictions. Borderlands were therefore mostly arbitrary and meaningless.
And it meant that the focus of the States was completely missing when it came to the management of the river.
Local governments, whose boundary was mostly set at the 'edge of town' on either side of the river, saw the water coming in 'from somewhere' and mostly saw the water going 'to somewhere, who cares, let it be a drain or a sewer'.
A lot of this nonsensical relationship of local government with the river had to do with boundary. The nonsense of the boundary of towns around Australia being the edge of the conurbation, made little sense to anything that needed to be performed in that town, such as in the surrounding district, such as existing traditional Aboriginal communities, and especially in relation to the river. Towns were not significantly just conurbation. They were there for regional purpose. But you wouldn't know that if you sat in on council considerations. The limited town boundary ideas removed focus away from le voisinage to political power structures that mainly concerned themselves with power, prestige, and the ownership, purchase, sale and profit of real estate.
The problem with the River Murray only started to be addressed when it reached crisis point and it became obvious that a state as described in FOWTOR was needed to clean up the mess. In 2012 the Murray Darling Basin Authority MDBA was established bringing in (in addition to the NSW & Victoria rivers and their tributaries) the States of Queensland (tributaries) and South Australia (downstream and outflow) and in part The Australian Capital Territory (upper Murray Murrumbidgee etc.) into the picture. 
The MDBA was drawn up 5 years after FOWTOR was presented to Parliament. 
MDBA (2012) defined a 'region' based on the FOW which turned out to be exactly the same as the state described by FOWTOR (2007) (proving without any doubt the importance of FOWTOR's 'regionalism' to le voisinage). 
But this 'region' under MDBA is a description without the legal profile / jurisdiction needed to carry out its responsibilities, still beholden to the money coming from the State governments, that is to say, decisions being dictated by capitalist financiers in the cities, do things this way or you will not get the funds. This was proven clearly by State politicians, their administrators, and their capitalist buddies taking part in misappropriation and rorting of MDBA resources and water resources for personal financial and political benefits, most of which went unnoticed or only opposed by community speakers unheard in the main, and claims of which are still being investigated, as we speak.
Anyway, by the time MDBA was properly functional it was too late. Privatisation had taken over and vested interests were coming in for the kill to steal as much of the life of the river that they could get for themselves.
This could only happen because of the focus of State governments and their vested interests in the city. A FOWTOR region with its focus on the river would to a large extent remove those vested interests. The tributaries in Queensland calling the shots for river usage further downstream and allowing the huge capitalist cotton growers to steal all the tributary river water (calling it personal capture and storage) would not happen without a big punch up under FOWTOR. And FOWTOR creates a region with the power to implement the changes required. MDBA, beholden to State power in the various cities, in 5 State governments, will never have that power.
10)

   Borders
In the FOWTOR model, the terms border and borderland are synonyms.
They are both zones of indeterminate width that form the outermost parts of a region that are bounded on each side by the boundary of those regions, with adjacent regions.
They can be considered borderland and bordersea, that is to say: (a) on land adjacent to another region at the region's boundary, and (b) on sea adjacent to another region at the regional maritime boundary, up to the national maritime boundary.
Climbing up the hill to the TOR and sailing out to sea (port or starboard) until we come into contact with our region's maritime boundary and (afore) until we reach the national maritime boundary line at Australia's Exclusive Economic Zone Limit, these borders define a regional zone with the region fully in charge of le voisinage, meaning (in international nomenclature):
'our neighbourhood, in our vicinity, determined by nearness, our neighbours, with whom we have, we seek to have, good neighbourly relations',
relevant to our FOWTOR region's interaction with adjacent regions.
This le voisinage concept is a key concept for understanding why I am promoting FOWTOR.
le voisinage can only be carried out at the 'regional' level or 'community' level (combine the two and you start to understand the meaning of the word 'regional').
le voisinage roles and responsibilities and benefits is necessarily shared in our region with adjacent regions, at the border.
The regional land boundaries define a border (with other regions).
Under FOWTOR, each region has borders with at least 2 other regions, most have borders with 3 other regions, and 3 regions have borders with a multiplicity of other regions.
Note: The use of the meaning of the terms borders, frontiers and boundaries highlighted in yellow in this submission is borrowed from Victor Prescott and Gillian D. Triggs: International Frontiers and Boundaries: Law, Politics and Geography (Martinus NijHoff Publishers, Leiden Boston, 2008) 517pp. (P&T, 2008)
11)

   Maritime Boundaries, Borders at sea
I have included the sea up to the Australia's Exclusive Economic Zone Limit maritime boundary in FOWTOR because State and Federal governments have proven over the years since federation that they are often a long way away from the control of maritime zones, leaving the seas open to misuse by international fishing corporations and the like. They are also incapable of controlling the water flowing into the sea from the land, leaving them open to pollution and general environmental damage.
FOWTOR seeks to make these mistakes harder to make.
The best people to control the seas (as defined here) are the people in control of the regions (not current legal entities called Australian States but consequent regions as defined in FOWTOR). They are intimately in contact with FOW into the sea and can make clear decisions on who uses the adjoining seawater, when, and for what purpose.
The region would require resources, such as shipping resources, helicopters, planes, drones, etc., to turn this vast area into a protectorate but we know, from attempts to protect the Great Barrier Reef GBR, that would be money well spent. All seas around Australia have GBR type considerations. They are just not taken into consideration because the concept of protectorate only occurs in the minds of CSIRO scientists who the national government seems keen to sack now anyway. The Federal and the State governments have never taken this protectorate seriously, not setting aside any serious resources to make it happen. The police watercraft in the large cities on the coast and the country's naval resources are engaged in completely different functions than I am talking about under FOWTOR.
These changes turn Australia's Exclusive Economic Zone Limit into real regional resources rather than just an international claim for power and prestige, huge international capital  largesse and so-called 'security' issues usually dictating naval mismanagement by a national government concerned only with political issues and largely unconcerned with the use of the seas surrounding the continent.
As the sealevel rises (as it is about to do as global warming increases) FOWTOR regions are also best placed to ameliorate the risks associated with rising sea levels. The existing State and National governments may make important changes to protect significant urban conurbation, such as Melbourne, Sydney, Wollongong, Newcastle Brisbane, The Sunshine Coast, Adelaide, Perth, from rising sea levels. But following the massive bushfires across Australia in 2019, it is reasonable to assume that when the impact of sea level rise becomes significant, regional areas will be left to 'fend for themselves'. The story will be the government simply does not have the resources to protect everyone around a vast continent with such a small population. We have to make decisions to use those resources carefully according to priority. We can hear it already.
FOWTOR makes these sorts of mitigations at the regional level more understandable and achievable.
The most external national boundary (defined by federal jurisdiction) defines a number of international borders, including borders with: Indonesia, Timor-Leste, Papua New Guinea, Solomon Islands, New Caledonia (Nouvelle-Caledonie), New Zealand.
The regional maritime boundaries define a border (with other regions).
Under FOWTOR, each region has borders with at least 2 other regions, most have borders with 3 other regions, and 3 regions have borders with a multiplicity of other regions.
The external national border defines the need for the federal government's navy to use a zone of indeterminate width inside the Australia's Exclusive Economic Zone Limit limit when dealing militarily with international shipping to protect national interests.
This use of this bordersea by the National navy within the Australia's Exclusive Economic Zone Limit the FOWTOR region will of course be required to permit under agreed negotiation and transparency and duty of care provisions agreed at the time of Allocation.
All shipping not engaged by the naval forces as described here would naturally be a FOWTOR regional concern and fall under regional jurisdsiction.
This makes complete sense because the existing Regions' and Federal jurisdictions have shown themselves to be incapable of making even basic decisions to stop international and large corporations using shipping lanes to wreak havoc on the environment such as their open engagement in damaging the Great Barrier Reef with no care for the future, and little or no penalty arising.
12)  

Drawing Boundaries
The motives for drawing FOWTOR regional boundaries on land and sea are identical for each region but multiplicitous, meaning they arise from the need to satisfy a multiplicity of human needs for those who reside in the region. This includes concepts such as title and the nature of human and material resources, but is not limited to that.
If the existing State model is replaced by the FOWTOR model it is because of the need to take into account the past, the present, and the future of communities living in the region, which includes human needs at the personal, community, and regional levels, including le voisinage, meaning (in international nomenclature): our neighbourhood, in our vicinity, determined by nearness, our neighbours, with whom we have, we seek to have, good neighbourly relations.
While the FOWTOR Model calls for the boundaries to be drawn by academia, at the professorial level, by experts in geoscience, to draw the boundaries for proper FOW that makes sense into the long term future, all communities need to be engaged, to allow this to be a new beginning across the continent.
13)  

Consequent Boundaries
Boundaries that are drawn to coincide with some physical or cultural features are called consequent.
All boundaries in the FOWTOR Model are consequent boundaries. They are consequent to the FOW.
I am promoting this, not only because of the importance of water to all life on the continent, an extremely arid continent, the most arid of all continents on the planet, that needs proper management of water to survive. And the continuous increase in the length and impact of droughts since records began. I am suggesting it also because it helps to give proper meaning to regionalism that was completely destroyed by the meaningless political borders agreed to at the time of drawing up the boundaries in the late C19th giving rise to the Constitution 1901.
The FOWTOR regional boundary describes a region that is unique, distinct from all the other regions that make up the continent. Antecedent colonial Statehood hid this uniqueness from view and turned the management of the various regions, the management of regional communities, the management of water, the management of communities' human rights and responsibilities, etc. into a political football to be played by those in power for their own purpose and their own outcomes.
14) 

Choosing A Key Regional Maritime Boundary
There are three possible Regional Maritime Boundaries to be considered from the National Maritime Boundaries. Only one makes complete sense to FOWTOR. The other two are nonetheless viable options. 
(a) External limitation of Australia's Territorial Sea. If this is included in a new form of regionhood (that is, regionalism) this puts reefs etc. under the #dutyofcare of the FOWTOR region, in a protectorate under the control of the new region and incorporating it in the region's particularities, it's past, present, and future. Current Federal and State governments have proven over the last 119 years that local FOWTOR regions are needed to get control of such essential elements. Recent federal sacking of CSIRO scientists and money flowing to private NGOs who have no interest and haven't even applied are good examples of things needing quick turnaround before sea level rise (which is happening as we speak) gets severe. 
(b) Australia's Contiguous Zone Limit. Based on (a), just wider. Abitrary and meaningless but better than (a) for the new region.
(c) Australia's Exclusive Economic Zone Limit. The federal Government has shown its main interests are international capitalist main deals such as dealing with mining conglomerates etc. The region owning and controlling the whole of the areas defined opens up the possibilities, a broad exciting new future to statehood (regionalism) in Australia.
15)

   Allocation, Delimitation, Demarcation, Administration
In the FOWTOR model, the terms allocation, delimitation, demarcation and administration have precise meanings:
Allocation means the initial political division between two regions under FOWTOR. If that happens under the Australian Constitution 1901 without significant change to that Constitution, allocation means an agreement brought about by particular meetings of the COAG, brought together by and necessarily participated in by all existing regions and territories and the federal government, for the purpose of Allocation, and verified by Referendum(s) as necessary, given the existing Constitutions of all the participating bodies (federal, states, and territories).
Delimitation means the selection of a boundary site and its definition.
In the FOWTOR model, each region has an identical and simple definition:
Because it is based on the Flow Of Water (FOW), from the highest achievable lineage that encompasses the boundary site (delimited by the Top Of Ridge (TOR)) to the sea, it is defined by natural processes, not by political negotiation. The definition at sea level is also reasonably easy to determine. Where the boundary on the land hits the sea, at two points, each end of this line, a straight line is drawn out to sea, at as near to 90 degrees to the shoreline as is practicable, until it (the regional maritime boundary) hits the national maritime boundary (which delimits the whole continent that falls under the jurisdiction of federal law from the high seas). The area delimited by the water within those maritime boundaries is naturally part of the regional boundary site and is contained within that region's jurisdiction under Constitutional law.
Demarcation refers to the construction of boundary markers in the landscape:
Because boundaries are determined by FOW, few boundary markers are required in practice. They may occur on a road that crosses the TOR at a border crossing with another region and may be indicated by markers on the road or signage etc. It is not considered appropriate for fences, walls or barriers to occur at TOR as this would interfere with the proper environmental management of FOW. It would also be unconstitutional for tracks, roads, pavements, ditches, watercourses, powerlines, etc to be constructed at the top of the TOR, and/or to follow the, TOR dividing two regions. Demarcation needs to be a natural feature of the landscape and to remain so in perpetuity.
TOR is easily determined by inspection on the ground by observing the FOW to determine which region we are in. A geographical map of the boundary site, drawn up by geographers, will demarcate the boundary with an accurate, continuous encompassing line at the TOR from coast to coast, and, once agreed by the COAG, will become final and permanent. Political negotiations cannot change this demarcation in an attempt to modify the political, economic, or social attributes of the region existant at the time of original Allocation to achieve other purposes. The only change in the future might be the division of a region or the amalgamation of two regions if considered appropriate to achieve the proper control of the FOW. A bit like "we got it wrong in Allocation; it should have been ..."
It's not so easy when at sea to understand which regional jurisdiction you are under when inside the maritime boundary. There are no markers to tell you what region you're in. But this is no different under FOWTOR to any other system of current border control. And with sophisticated Global Satellite calculation and imagery systems dominating the use of vessels these days, this is just a technical issue. It probably makes more sense under FOWTOR, anyway, as security control systems, for example, are closer to those rorting the system, rather than security systems hundreds of nm's away, being called on to take action.
Finally administration is concerned with the maintenance of those boundary markers for as long as the boundary exists. 
The boundary marker (the TOR) is a natural occurring phenomenon.
Of course, engineering being what it is in the twenty-first century, the TOR can be changed dramatically for profiteering and political purpose. 
If the FOWTOR model is used to define a new form of regionalism in Australia, it will become unconstitutional to physically modify the landscape to bring about changes to the TOR so that the FOW is changed, thereby changing the boundaries of two adjacent regions, requiring modification of the original detailed geological survey. Where this happens naturally it is expected this will involve minor changes over long periods that can easily be dealt with by both regions coming to agreement with the federal government as arbitrator.
Addendum 1 - Similar to traditional boundaries
The following is not part of the submission, just offered to show how good the FOWTOR model is. The traditional 'nations' are very similar, just many more. They got there first, many thousands of years before me. It seems to me that many of the boundaries line up because borders separating nations were likely to be influenced by the FOW:
This is the early version used on https://www.bloggerme.com.au/aboriginal-australia-map1
A more recent interactive version of this can be looked at and purchased from, the AIATSIS website:,
https://aiatsis.gov.au/explore/articles/aiatsis-map-indigenous-australia
Addendum 2 - Development of Regionalism in Australia since 2015
The following is not part of the submission, just offered to show how good the FOWTOR model is. I got there first. When I designed FOWTOR they were still looking at everything, like weather, at a State level, which of course was nonsensical. Weather doesn't have any notion of what State it is occurring in, and weather happening in one State has continuous impact on other states. Once they had realised it, it took them about 5 or 6 years to get a virtually identical model to the FOWTOR model. That's only to be expected because my model was based on what happens when the water hits the ground, there's on the water falling out of the sky. In the end, it's the same map.
NRM Regions
Primary tabs
The CSIRO & BOM have been cooperating on natural resource management (NRM) for a number of years and this has brought them into work with Climate Change authorities, Dept of Environment & Energy, Dept of Landcare, and State governments.
Their CCIA NRM Technical Report 2015 https://www.climatechangeinaustralia.gov.au/en/publications-library/tech... shows how important the ideas expressed in BloggerMe's FOWTOR model can be to getting it right.
Penny Whetton (ed.): Climate Change in Australia: Projections for Australia's NRM Regions; Technical Report (CSIRO, 2015) ISBN 9781921232947 (PDF) https://www.linkedin.com/in/whetton-penny-73166025/
NRM Regions
Chapter 2 (authors John Clarke, Leanne Webb, and Kevin Hennessy) describes "NRM Regions", that are divided into "Clusters"; there are "Super Clusters" and "Sub-Clusters".
https://www.linkedin.com/in/ozclarkejm/?ppe=1
https://www.linkedin.com/pulse/climate-change-australia-thresholds-calcu...
https://www.climatechangeinaustralia.gov.au/en/climate-projections/explo...
CCIA_NRM_Technical_Report_2015_p21 Box 2: NRM Regions
"In this report Australia is divided up into 56 natural resource management (NRM) regions based on catchments or bioregions. These regions facilitate the development and implementation of strategic NRM plans, and regional bodies play a key role in delivery of government NRM programmes, including the National Landcare Programme. These regions are determined by the Commonwealth, State and Territory governments, with revisions from time to time. For these projections, a regionalisation scheme using the NRM regional boundaries has been used. The main projections regions are called clusters. To allow time for the extensive analyses required to develop the results presented in this Report (and associated products) it was necessary to settle on the cluster boundaries and retain those boundaries for the life of the project. The boundaries were fixed on 1 January 2013. In early 2014, the New South Wales government realigned their NRM regional boundaries. This affects the East Coast, Southern Slopes and Murray Basin clusters, and to a lesser extent the Rangelands cluster (see the relevant Cluster Reports for details). In most cases, the definition of clusters was based on NRM regional boundaries. However, the whole of the Northern Territory is a single NRM region as is northern Western Australia. It was important in the definition of cluster boundaries to recognise the distinct climatic and biophysical character of the far northern monsoonal areas. As such, the Northern Territory and northern Western Australia were split along their sub-regional boundaries delineating the Monsoonal North and the Rangelands clusters. In addition, the Cape York Cooperative Management Area was used to delineate part of the boundary between the Wet Tropics and Monsoonal North clusters. Figure B2.1 shows the NRM regions and other boundaries used as the basis for the regionalisation described in this chapter." p21
The NRM section makes reference to
DEPARTMENT OF AGRICULTURE. 2013. Natural resource management [Online]. See http://www.bloggerme.com.au/nrm-regionalism-landcare
DEPARTMENT OF THE ENVIRONMENT. 2013. Australia's bioregions (IBRA) [Online]. See http://www.bloggerme.com.au/nrm-regionalism-doe-ibra
Sub-dividing Australia
Clusters
"For the purposes of this Report and associated products, Australia has been considered at three levels of detail to suit specific purposes. The regionalisation scheme, developed in consultation with the Department of the Environment, defines eight natural resource management (NRM) clusters. This sub-division was informed by logical groupings of recent past climatic conditions (e.g. Stern et al . 2000), biophysical factors and expected broad patterns of climate change (e.g. CSIRO and BOM, 2007). Where possible, the cluster boundaries were aligned with existing boundaries of 56 NRM regions (Department of Agriculture, 2013, Department of the Environment, 2013) – these are described in Box 2.1 (above). The clusters are shown in Figure 2.1 and a summary of selected characteristics of each cluster is provided in Table 2.1. There is a Cluster Report describing the climate change projections for each cluster available on the Climate Change in Australia website." ibid. p.16
(Ibid.)
Sub-clusters
"Recent studies (e.g. Grose et al . 2010) and preliminary analysis of the model results in the early stages of this work suggested further sub-division was needed in some cases to better capture the important patterns of projected change. In light of this, five of the eight clusters were sub-divided (Figure 2.2). Projections at this scale, called sub-clusters, are also more useful for impact assessment and adaptation planning." (ibid. p17)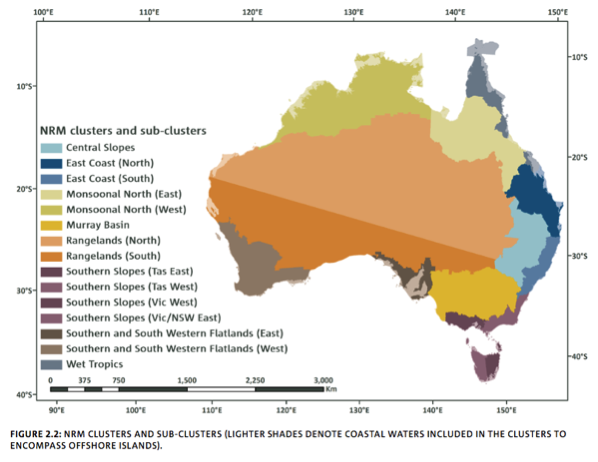 Ibid.
Super-clusters
"We have also developed a broad-scale regionalisation of Australia by amalgamating the NRM clusters into four super- clusters: Northern Australia, Eastern Australia, Southern Australia and Rangelands (Figure 2.3). This regionalisation is used within this Report (particularly in Chapter 7) to describe climate changes at national-scale while permitting representation of differing projected climate changes for the major climatic zones. The relationship between the three levels of sub-division is shown in Table 2.2." (ibid. p19)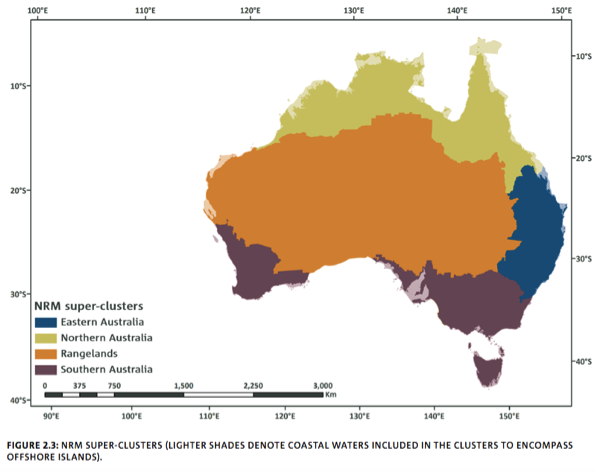 Ibid.
Climate analogues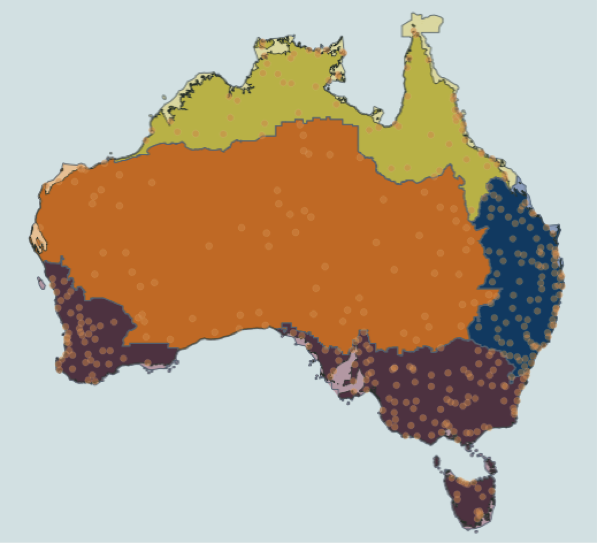 https://www.climatechangeinaustralia.gov.au/en/climate-projections/clima...
Continuing developments
Grose et al. Working Draft Confidential - Southern Slopes Cluster Report
© CSIRO 2015 CLIMATE CHANGE IN AUSTRALIA PROJECTIONS CLUSTER REPORT – SOUTHERN SLOPES
ISBN Print: 978-1-4863-0430-1 Online: 978-1-4863-0431-8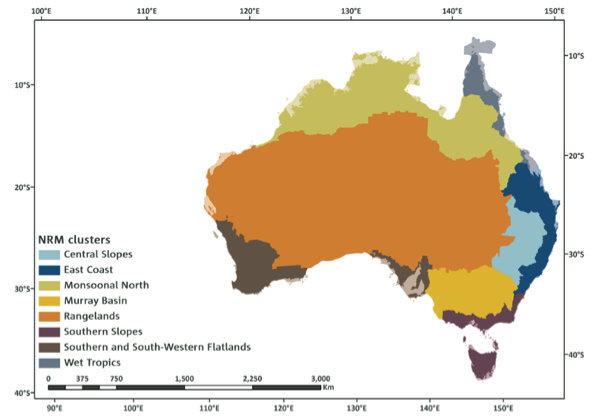 op cit. p2
https://www.climatechangeinaustralia.gov.au/media/ccia/2.1.6/cms_page_me...
Michael Grose Conference paper 2010 https://vivo.utas.edu.au/vivo/display/n1236022542
https://www.linkedin.com/in/michael-grose-b5356632/?ppe=1
More reading
MORE: Climate Change In Australia (CCIA) website: https://www.climatechangeinaustralia.gov.au/en/
Addendum 3 - NRM Regionalism – DOE IBRA
The following is not part of the submission, just offered to show how good the FOWTOR model is.
DEPARTMENT OF THE ENVIRONMENT. 2013. Australia's bioregions (IBRA) [Online]. Available: http://www.environment.gov.au/topics/land/national-reserve-system/scienc...
"... (the) National Reserve System is provided by the Interim Biogeographic Regionalisation for Australia (IBRA). IBRA was developed in 1993-94 and is endorsed by all levels of government as a key tool for identifying land for conservation under Australia's Strategy for the National Reserve System 2009-2030. The nationally agreed regionalisation was published in Thackway and Cresswell 1995, An Interim Biogeographic Regionalisation for Australia: a framework for establishing the national system of reserves.
"IBRA is updated as improved spatial mapping and information on vegetation communities and ecosystems becomes available from state and territory agencies. For example, in 2000 a review was undertaken to resolve boundary and data issues, which led to the development of IBRA version 5.1. Further information on this review can be found at: Revision of the Interim Biogeographic Regionalisation of Australia (IBRA) and the Development of Version 5.1. - Summary Report."
http://www.environment.gov.au/land/nrs/science/ibra
Looking at the current IBRA maps: (IBRA7)
Australia's 89 bioregions (PDF - 2.57 MB) ​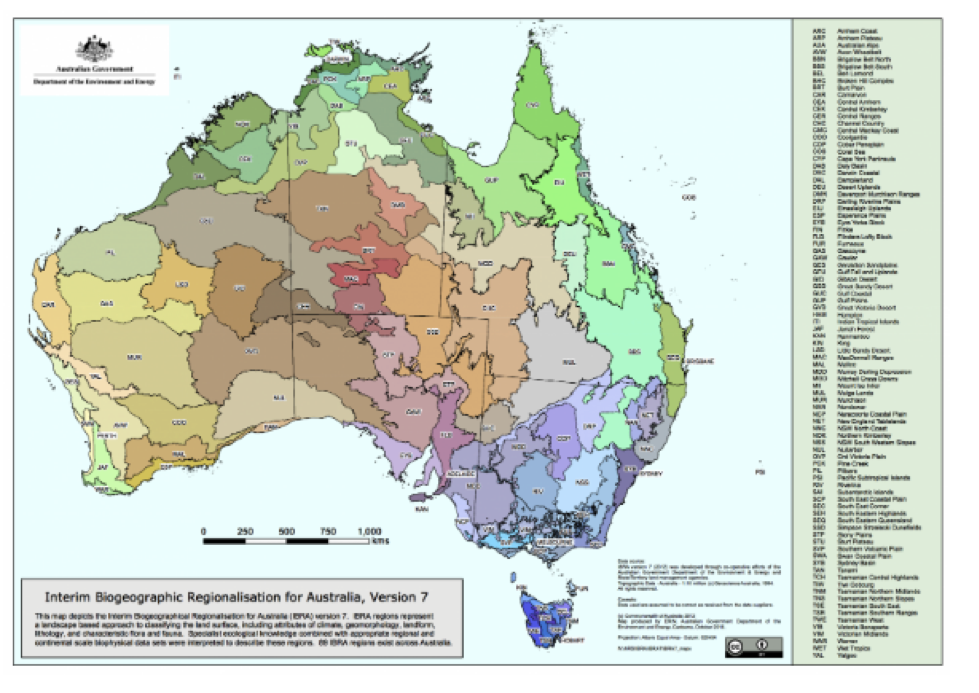 Australia's 419 subregions (PDF - 4.95 MB) ​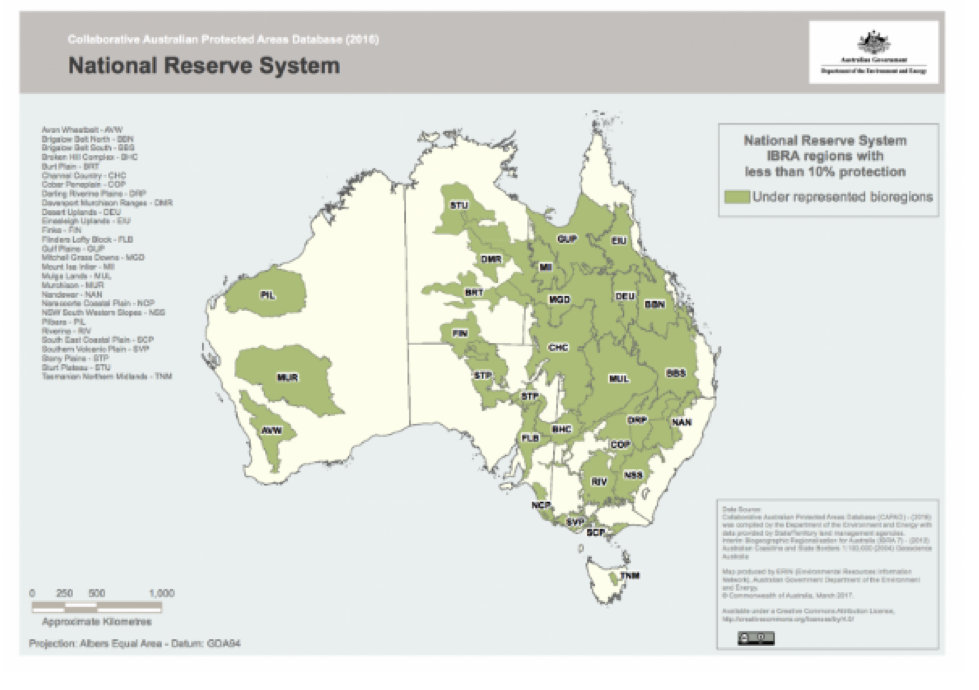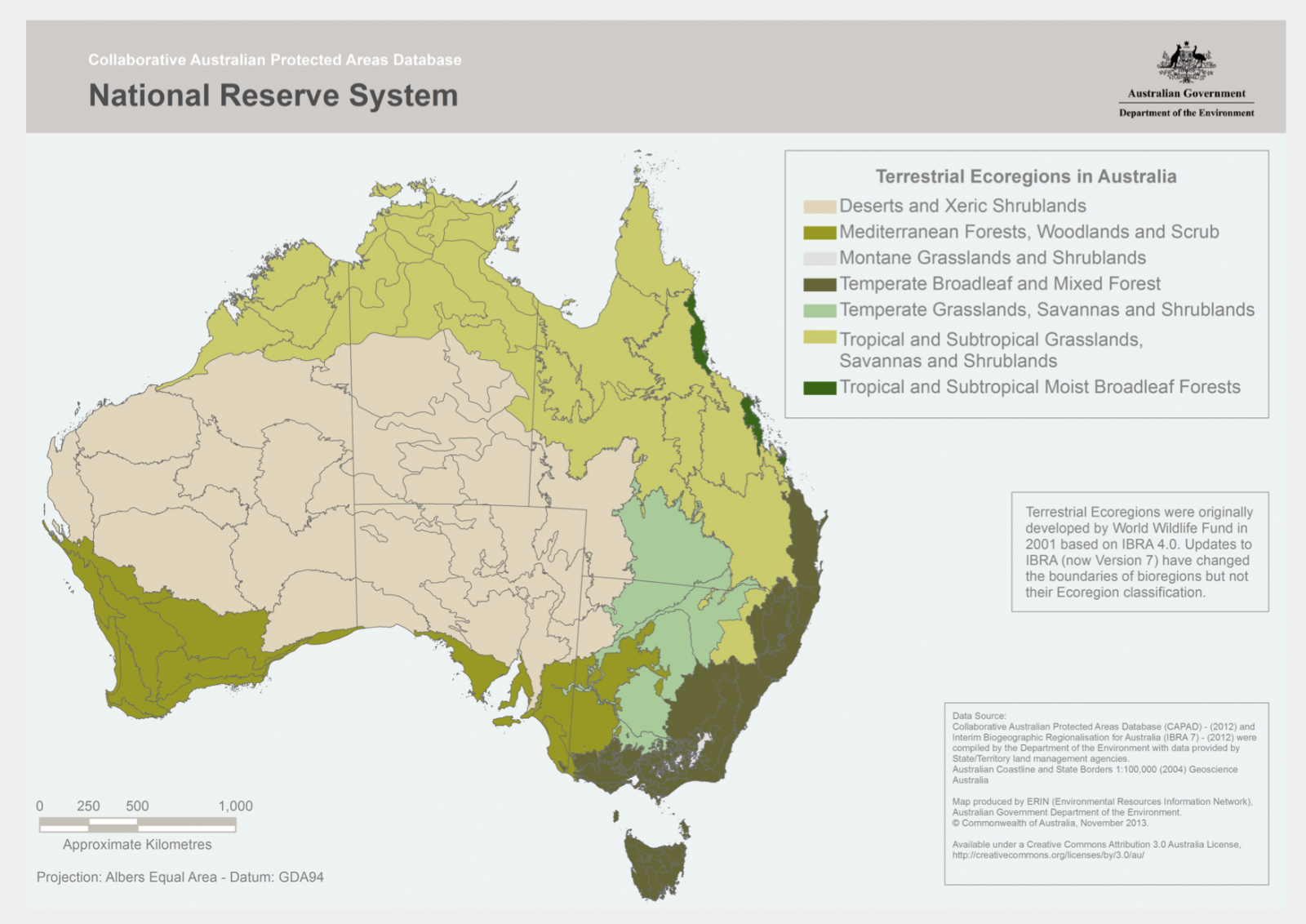 IBRA7 boundary changes (PDF - 1.88 MB) ​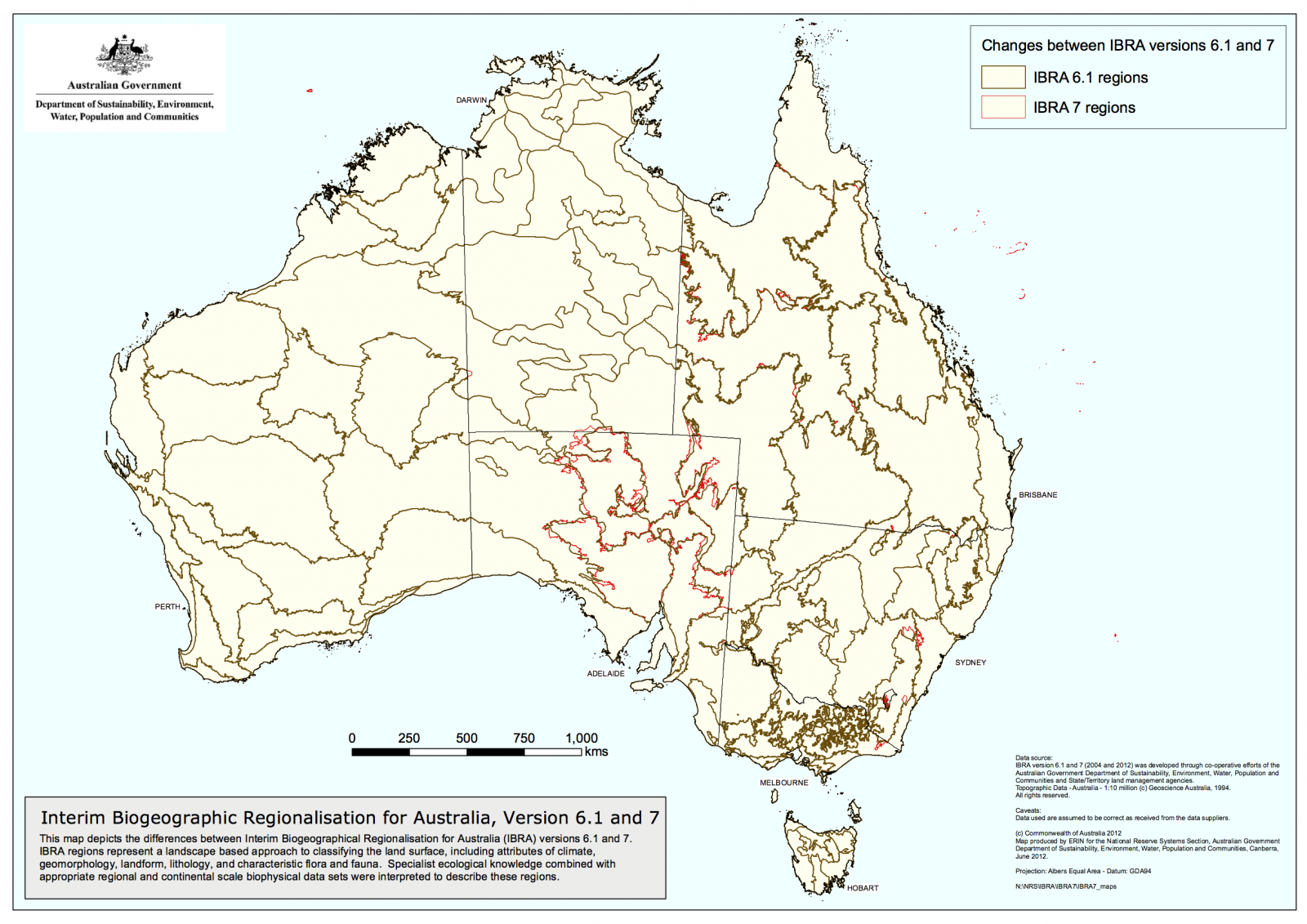 See also NRM Regions Australia http://www.bloggerme.com.au/nrm-regions-australia
Footnote
Acknowledgement of receipt of submission from NSW Government <webforms@customerservice.nsw.gov.au> Fri, May 22, 2020, 9:40PM.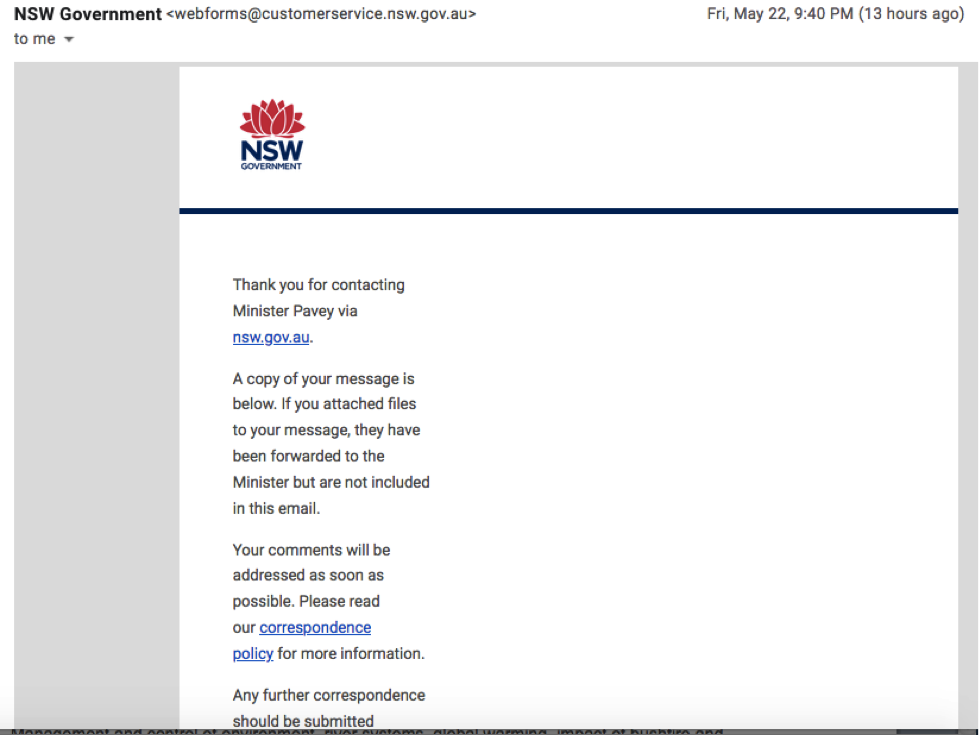 Your enquiry

---

Subject
NSW Water Rules Submission
Type of enquiry
Comment
Message
Dear Minister Melinda Pavey and Minister Matt Kean,

CC: NSW Premier Gladys Berejiklian

I write to you to express my concern and disbelief that draft water sharing plans for critical rivers across the state explicitly exclude the Millennium Drought, the current drought and climate predictions when making decisions on water allocations.

The 'loophole' introduced in 2014 by disgraced Water Minister Kevin Humphries means more water is taken by irrigators and less water is reserved in preparation for drought.

Last summer, this mismanagement meant that towns suffered critical water shortages, rivers were starved, thousands of native fish were killed and multiple related stresses burdened agricultural and river communities. Hay was being trucked in from as far as Western Australia, as farmers could not grow fodder for stock.

These communities and rivers are still reeling from the impacts of the drought, yet you are about to sign off on draft water sharing plans as part of the Murray Darling Basin Plan process that explicitly backdate the 'drought of record' as far back as 2004.

As responsible Ministers, surely you would agree that decisions about reserving and allocating water should be made on the most up to date information. Indeed, the Basin Plan requires "best available science".

Ignoring the Millennium Drought, the current drought and future climate predictions when making decisions about water allocations will only serve to jeopardise regional town water supplies and healthy rivers into the future and put more pressure on agri-based economies.

I urge you not to sign off on any water sharing plans that backdate the 'drought of record' and urgently update all NSW plans using up-to-date data and best available forecasts.

On the matter of planning, I urge you to consider a new planning model that I have been working on since 2007, called FOWTOR, which was presented to federal parliament 2008, that predicated CSIRO BOM weather regional models by 5 or 6 years and 6 years before the regionalism adopted by MDBA that can take us into the future, as we are now entering into a climatemergency. FOWTOR promotes a new form of regionalism that moves away from the long-standing Australian tendency to see regionalism in marketing/product terms and allows fresh focus on things that matter in the 2020's - 2050's and beyond, climate change, increasing drought, floods, water shortage, dying river systems, less water for towns along the river systems, rising sea levels, protecting ground water, damage to reef systems, and the need for more social interaction and engagement in a large continent with very few citizens leaving them to fend for themselves as governments around the continent have limited resources to deal with this crisis.
 

I would like a response
Yes