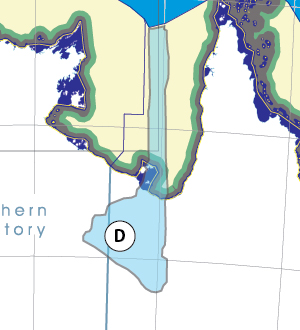 Thanks for checking this State out.
This State is prepared on the a-political concept that if you are interested in 'place' in Australia, the most important aspect that defines 'place', is the 'flow of water'. The Senate is interested in 'place'.
This State defines its boundaries at the top of the ridge, where water flows one way rather than the other. This leads to a very interesting 'place'.
We are seeking a debate with people who live in this proposed new State. We know we've got the State pretty well correct; after all, it's just geography. But if you live in this State you can tell us a lot of interesting things.
- Do these boundaries define a place that is unique; different to every other State in Australia? We think that that is probably quite likely.
- Is it a great place, worthy of recognition?
- Upon formation, what should be the name of this State? Who would be the Premier? Who would be the two Senators who represent this State?
- Should there be a separate super-State for the whole of the Gulf of Carpentaria?
- Would life be enhanced if it was on a fast Ring-Rail that links the Capital City to every other Capital City in Australia? Does it have a university? it appears not to have. We think that it should. Many other interesting things!
We think that this is a great new concept of Statehood based on real concepts that define life in this particular State. What do you think?
---
Aboriginal Australia:

Waanyi
Nguburinji
Mingin
Kukatj
Kathant
Mayi-Yapi
Mayi-Kutuna
Wakabunga
Mayi-Thakurti
Ngawun
Wunumara
Kalkadoon
NOTE1: Likely indicators only; for original Aboriginal Australia Map © 1991 & restrictions on its copy & use, see Aboriginal Australia Map
NOTE2: The red line is part of the original Aboriginal Australia Map © 1991. The black line is added by Bloggerme for discussion only. It shows the likely State boundary based on the flow of water only. As "the ridge" (See FOWTOR) naturally impacts on the development of the language, social or nation groups of the Indigenous people of Australia, the proposed border is often identical to the group boundary shown on the Aboriginal Australia Map. This is as was expected. Variations are social/historical & result in a particular language, social or nation group being represented in two adjoining States.
Pin http://www.pinterest.com/pin/418553359092409016/
---
Other regional projections - CSIRO part of Monsoon North region
The CSIRO has regions for projecting the impact of Climate Change. See https://www.climatechangeinaustralia.gov.au/en/climate-projections/futur... This state, Wurung State (D), is one of the clear projections in a CSIRO cluster called "Monsoon North region". CSIRO's Monsoon North region coincides exactly with BloggerMe's K,J,H,G,F,E,D,C,AF.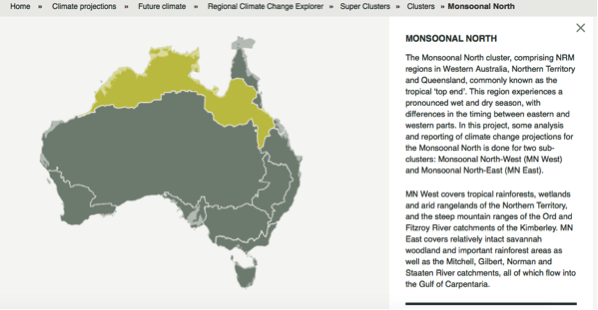 Click here to: