Submitted by Steve Irons on Sun, 16/08/2015 - 9:56am
Constitutional crisis?
That was a week, that was. Question, Mr Speaker: If the lying, cheating, rorting, corrupt, secretive, racist, child-molesting, rapist, murderous, incompetent, hypocritical (and I use these words advisedly) buffoons in Canberra offer you a "referendum or a plebiscite?", do you reply "please sir, I want some more?" or is it a Constitutional crisis?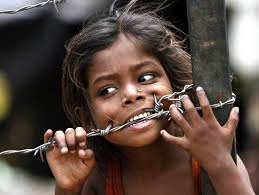 http://www.ltgtr.in/2010/10/please-sir-i-want-some-more.html
This week, Abbott tried to divert attention away from his buffoonery in Canberra (as he wheeled in mindless goons from the National Party into 'his own party room' to guarantee some emerging sanity in the Liberal Party could not possibly embarrass him and impose a reckless 'freedom to decide' for MPs) with Constitutional niceties like:
"referendums or plebiscites? you decide".
My first response to Abbott and his boys going on and on about 'referendums' and 'plebiscites', was incredulity, followed by gut-wrenching laughter, followed by a vomitous inability to speak. My kids thought I had finally gone mad and started to discuss ways of having me committed. After retrieving some self-composure, my advice to ABCNews24 above the loungeroom chatter was,
>>the answer from the plebs, if they had a voice, would definitely be, "I want 'all of the above' and I want 'it' now".<<
Pathological or just running his own agenda?
In the discussion that followed around the fire, into the night, I found myself saying it always amazes me how Abbott always gives you the tools for his own demise, whenever he introduces something new. They pointed out to me that this is an almost ubiquitous trait of people who suffer from a psychotic disorder that is known in common circles as *pathological liar*.
Not every pleb understands Abbott the way *my* current family understands him. If you have lived for decades trying to make sense of a clinically diagnosed *pathological liar*, you understand all Abbott's nonsense implicitly.
What is a pathological liar?
The pathological liar (PL) is suffering from a self-imposed break with reality; it's not that he doesn't know the difference between right and wrong, or that he finds it hard to understand that this is true and that is a lie; if you are a PL, it just doesn't matter!
As a result of this, a PL has no ethical or moral code against which to judge the question upon which he focuses, at present. Since all answers, whether true or false, in the past, have been based on fundamental deceit, they are irrelevant to the present, and bear no impact on the current debate. Any answer is fine, as long as it achieves the desired outcome upon which he focuses, at present. If I question the PL's failure to generalise, to synchronise, to justify, his current decision with his decisions of the past, he is capable of understanding the differences, but the differences are irrelevant; all fine because they were all "true" at the time.
So, if anyone in the MSM is doing anything to try and understand Abbott and paint a broader picture of this pathological liar and his objectives, they are to be commended; but they are probably just missing the point; there isn't one.
http://www.psychiatrictimes.com/articles/pathological-lying-symptom-or-d...
Note: *my* family = I have adopted these words as *my* words, and adopted the word *he* above so as not to provide any means of identification of the poor person suffering from these disease-like symptoms within *my* family, upon whom I have based my comment, as I am sure you will understand.
What is a pleb?
Yes I am a pleb, a 'plebian' if you like, and proud of it. The 'plebian', the 'commoner', of ancient Rome was important; a player in political debate, upon whom the whole concept of modern democracy, of voting, of the electorate, is based.
I am a pleb, like that commoner in ancient Rome.
I may be a bit uncouth, lacking in refinement, and I can be led astray. But, overall, I see things the way they are.
My concerns are basic; necessary for life.
The turns I take in the road of life are for truth and happiness and a better life, for all. I have a long standing ethical/moral code upon which I base my support for, or opposition to, the questions being asked, or the alternatives being offered, which hark back to these basic concerns.
From my common background, the 'magistrate' has been drawn, even in ancient times, to introduce the justice of the 'commoner' into legal proceedings.
It is me, the pleb, upon whom the 'House of Commons' in British parliamentary democracy is based.
If you see me as simple minded, easily herded, like a flock of sheep, I won't be offended; I will simply use this to evaluate who YOU are. If you think that's what a pleb is, you are too far-removed from the commoner to get it right, and need to be considered warily by the commoner from now on.
I may get carried away and taken in a false direction by lies or false promises from those who promote themselves as my leaders, more knowledgeable than the plebs, but at the end of the day it will be these basic common ideals, the key words of the plebs, not the general kissing of the arse of those in positions of power and privilege by the plebs, that will prevail.
What is a plebiscite?
A plebiscite is a vote by the plebs on 'government policy', a vote taken to get a clear understanding of what the plebs actually want. The idea behind a plebiscite is that the government of the day actually 'cares' what the plebs want, and will base their policy on the outcome of the plebiscite.
A plebiscite is a bit like a referendum, only it is not limited, as the referendums have been limited, to proposals, yay or nay, to change the Constitution of Australia. A plebiscite can be held on any matter of significance to the lives of the plebs.
So is a plebiscite a good thing?
In her excellent, easy to read, piece this week in The Conversation https://theconversation.com/with-no-coalition-free-vote-where-to-now-on-... Paula Gerber tells us the problems with plebiscites. She says:
The decision reached in a plebiscite has absolutely no legal force;
There are no rules for how a plebiscite should be conducted. A plebiscite does not have any hurdles for success, unlike a referendum;
A plebiscite is very expensive;
The government is free to ignore any result it doesn't like;
Plebiscites actually have an even worse success rate than referendums;
A plebiscite could have negative consequences and be highly divisive, licensing bigots, for example, to step up their vitriol and, for example, engage in both homophobic attacks and religious vilification.
So, while I feel like i should be saying to Abbott, "please sir, I want some more", when he says "do you want a plebiscite?" we have to take into account Paula's warnings. Let's keep her in mind as we discuss the issues related to referendums and plebiscites.
Q: Why does this matter? A: Australia is in a Constitutional crisis
Australia is in a Constitutional crisis on a number of fronts.
You might reply, "Really? crisis? I hadn't noticed. Is that what you call a 'crisis', when you can go on, day-by-day, in crisis, and very few people notice enough to raise an eyebrow? Are you kidding me?"
My answer would be: There is a certain truth to what you are saying but it doesn't remove the crisis. In fact it makes it deeper and more impactful;  if you don't acknowledge that a crisis is occurring, when it is, it makes the impact more dangerous and damaging to the plebs, and the possibility of reform even harder than it would be if everyone was aware of the crisis, as it plays itself out on the lives of the plebs.
Here are seven of the crises:
Crisis 1: local government
'Local government' under Labor was ruled by the High Court to be a non-starter and direct payments by the Federal government to councils as un-constitutional.
The Labor government was preparing for a referendum to write local government into the Constitution, and this was given bi-partisan support by Abbott before his election.
Abbott dumped it, soon after his election, as too difficult.
As far as the plebs are concerned, the whole issue of local government has never been properly dealt with and the whole country is only not in crisis mode because no one is prepared to take the Federal government to the High Court to force its hand.
http://www.bloggerme.com.au/coming-referendum-funding-local-government
http://www.bloggerme.com.au/steve-irons-where-referendum
Crisis 2: The Intervention
'The Intervention' in the Northern Territory was introduced by the Howard government as an attempt to sway votes in the South in a coming election by playing the racist card in the North, an election he lost to Labor.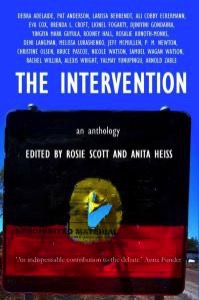 http://blog.booktopia.com.au/2015/07/02/the-intervention-an-anthology-in...
When Labor got into power, rather than dump the Howard madness, it accepted the racist dogma of The Intervention and strengthened the involvement of the state in the lives of Aboriginals in the North, activities that took away basic human rights. This has been well documented by UN agencies.
When Abbott got into power, he made these racist Labor changes permanent, with Labor's support, thereby turning the whole of Australia into an Apartheid-style state with different rules for Aboriginals in the North.
This is a crisis for those being mistreated under this Apartheid-type law and accompanies other major failings, both in the North and Australia wide, such as levels of incarceration that are massive, and huge numbers of Aboriginal deaths in custody, and appalling general life expectancy of Aboriginals, extreme in the North and severe elsewhere.
As far as us plebs are concerned, the only reason this is not a crisis is that the major parties basically agree on The Intervention and are happy to support each other in their 'apartheidization' of the North, and an MSM who has always failed to focus on this issue, leaving us plebs ignorant of the goings-on.
Crisis 3: Return to terra nullius in WA
The impact of the Intervention around Australia is being felt, but almost unnoticed by those not directly targeted. It is not understood by us plebs. The main impact to date has been the introduction of policy to destroy towns in Western Australia under the guise of an inability by the State to provide assistance to Aboriginal & Torres Strait Islander peoples because of a crisis in the state economy, caused by a slowdown in mining.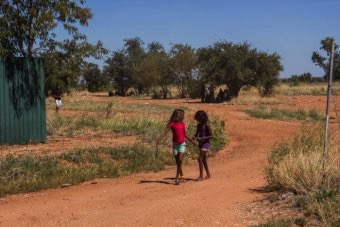 http://www.abc.net.au/news/2015-05-07/aboriginal-people-to-be-consulted-...
But the policy is not just the removal of some forms of assistance but an active war against Aboriginal peoples; the closure of towns and the cutting off of essential services, like water.
This is definitely a crisis for those having their lives destroyed.
For those plebs who care, this is happening to rid the land of Aboriginal connections that go back to the beginning of time, a continuation of colonial terra nullius, that will open up the land to a new era of development. Lives are precarious at the best of times and, if this continues, lives will be lost. It is receiving little coverage in the MSM, the MSM being a problem for more than 200 years of genocide, & it is supported directly by the Federal government.
The only reason this is not a crisis is the inability of the MSM and Labor to take the two governments on, WA and Federal, making them, MSM & Labor, part of the problem not part of the solution.
Crisis 4: the Speaker of the House
This week a new Speaker was elected by the House. Abbott and key players like the current Leader of the House took an active role in destroying the life of the Speaker in the Gillard government, Peter Slipper, for political and personal gain. Abbott was pissed off with Slipper for having left the Liberal Party and wanted to throw him out to try to replace the Gillard government.
Abbott used his special relationship with the Australian Federal Police to have Slipper charged with a crime, applying rules that didn't apply to any other MP under the Minchin Protocol. Abbott pursued Slipper until he was thrown out of the Speaker's chair by Gillard.
When Abbott got into power, and with Abbott sleeping in the AFP barracks, the AFP did Abbott's bidding: they pursued Slipper until he was convicted of a crime in the Federal Court.
Slipper was finally acquitted on appeal.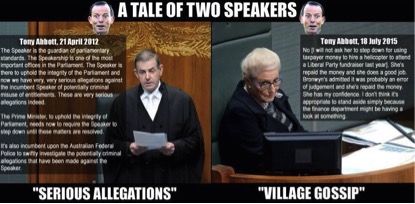 To read click here https://www.pinterest.com/pin/418553359097116890/ Thanks to https://twitter.com/Sammmw2 Nope, Nope, Nope. #auspol #madamchopper #BronwynBishop #BronnyCopter #bronnygate #BishopGate #DitchTheBish #politas
This was a serious blurring of the independence of the AFP from the Executive that has never been addressed, by the MSM, the Ombudsman or anyone, apart from some comment in Social Media. It is a serious failing of a modern democracy, something we normally accuse third world weak emerging democracies or military dictatorships of.
Abbott's chosen Speaker (Bronwyn Bishop) wrecked the tradition that had been in place for over 100 years of the 'independence of the Speaker' from party room brawl. Against all traditions, she insisted on attending the party room each week and got her instruction from the Leader of the House. She showed complete bias in her rulings throwing Opposition MPs out of the House more than 400 times vs a hand full of government MPs.
When Bishop was found to be rorting her expenses 5, 10 and then 100 times more than Slipper was accused of, the AFP refused to investigate her for a possible criminal offence, insisting she be allowed to pay back her stolen rorts under the Minchin Protocol, even though a direct precedent had been established in the Federal Court, by the Slipper case.
Abbott and his Leader of the House refused to admit she had done anything wrong and told us plebs that it was a problem in the system that needed to be addressed in the future.
Abbott tried to put her on probation and then told us he had to sack her, even though both of those ideas have no Constitutional fabric. The imbecilic nature of Abbott and his Speaker and his Leader of the House beggars belief.
Crisis 5: Concentration camps in defiance of Convention 1951
Under Abbott, Australia has become a rogue state in its open rejection of its responsibilities under the 1951 UN Convention
- telling the UN it should stay out of its (Australia's) affairs,
- continuing the process started by Labor of mandatory detention against the requirements of the Convention but going much further,
- lying to us plebs about the legality of seeking asylum,
- lying about its role in mistreatment of detainees,
- failing to properly act on murder and rape of detainees, and on sexual mistreatment of children in detention,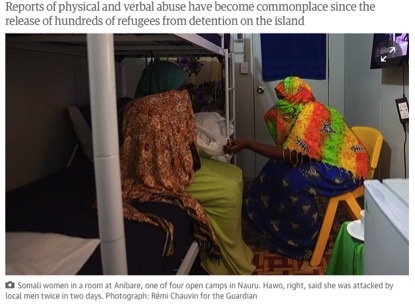 http://www.theguardian.com/australia-news/2014/dec/31/refugees-living-on...
http://www.abc.net.au/news/2015-08-11/asylum-seeker-allegedly-raped-deni...
- making it a crime by medicos to report on crime,
- failing to process any request for asylum, and
- taking an active role in refoulement against the requirements of the Convention.
Abbott has entered into agreement with a third party nation state to accept asylum seekers at huge cost to Australia, a state who has a record of involvement in 'human trafficking'.
Abbott goes on and on about "stopping the boats" whilst actively engaging the military in illegal turn backs and multiple breaches of the sovereignty of an important neighbour nation state and paying huge amounts to 'people smugglers'. He does this against the advice of anyone who has stood for anything on this issue. Abbott's nonsense is now receiving full support from Labor.
Crisis 6: Warmongers are untouchable
It has become pretty clear over the years, without having to read too much between the lines, that Bush, Blair, and Howard were aware that there were no 'weapons of mass destruction' in Iraq before their invasion of Iraq, and in a real sense these men are responsible for an illegal war in which hundreds of thousands died and millions were displaced.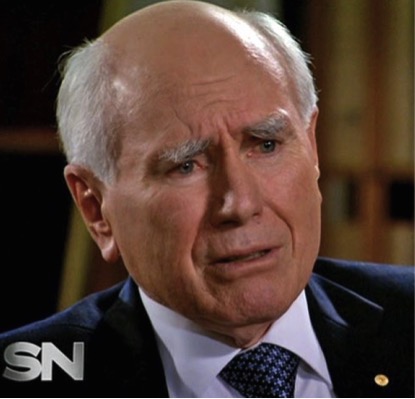 http://www.abc.net.au/news/2014-09-21/former-pm-john-howard-speaks-durin...
https://au.news.yahoo.com/sunday-night/features/a/25060149/john-howard-i...
http://www.abc.net.au/news/2014-09-21/howard-embarrassed-by-intelligence...
http://www.sbs.com.au/news/article/2014/09/22/howard-embarrassed-about-j...
Their illegal acts have given rise to an instability in the region that has yet to be worked out and is one of the most costly in human history.
The MSM played an important role in making their false position viable and making sure it was not subjected to proper analysis, interrogation and reporting. The Australian MSM have still refused to take Howard on, even after his recent publication and after his recent public admission on national television that the world knowing the truth is a "bit embarrassing".
These men should be facing trial in the Hague for 'war crimes' and 'crimes against humanity'.
The only reason this is not a crisis is the active support of the MSM and the ALP leadership of this murderous ex-PM.
At present, no words have been uttered in relation to this 'failure to perform' by Howard, and Abbott, although it is well-known that he only acts the role of the warmonger in a clear attempt to move focus away from his own failures at home, still enjoys the right to engage the military in wars overseas, without needing a vote in both Houses of the Parliament, signed off, say, by the Governor-General. Labor continuously supports Abbott's actions abroad.
Crisis 7: Aboriginal recognition
There has been drawn out activity over a number of governments attempting to move towards a referendum to remove racism from the Constitution and to acknowledge in the Constitution the place of Indigenous peoples in the history of Australia, commonly called 'Aboriginal recognition'.
https://www.humanrights.gov.au/publications/about-constitutional-recogni...
Recently a proposal from key Indigenous leaders for a series of independent conventions for Indigenous peoples leading up to more general debate on the need for a referendum to change the Constitution was rejected out of hand by Abbott, proving his commitment to 'inclusion' is worthless and providing no ideas on how the process he has in his mind could actually lead to inclusion.
At present parts of the MSM & Labor leadership are supporting independent conventions, but Aboriginal leaders are devastated.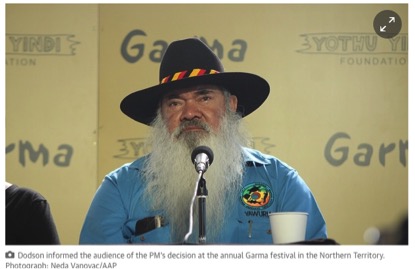 http://www.theguardian.com/australia-news/2015/aug/03/tony-abbott-reject...
Of the 7 crises mentioned here, only 2 are constitutional, right? Wrong!
At first glance you would be inclined to say that only 1 and 7 above relate to a 'referendum' to 'change the Constitution' and so only these would normally be referred to as 'constitutional'. But this formal way of dealing with issues, which you get a lot of in academia, leaves a lot to be desired. Let me explain:
Sometimes something is not considered "constitutional" purely because of the inadequacy of the constitution.
Constitutional? Example 1: The Speaker of the House
A good example of this is Crisis 4: The Speaker of the House.
In 1901 the Constitution established the role of The Speaker with a simple mention that one will be elected. http://www.austlii.edu.au/au/legis/cth/consol_act/coaca430/ It didn't need to go into detail because everyone knew at the time that to do his job right Mr Speaker would need to be above the fights being had out in the parliament and would have to rule fairly, and be (and be seen to be) completely independent, in order to promote proper debate and proper resolution. That someone would act as Bronwyn Bishop acted was unthinkable at the time.
So this is not an issue that is 'not constitutional'. If people are going to use the Chair to treat members of the Opposition unfairly and turn the whole of the parliament into a partisan brawl, turning the whole process into a joke, then it simply proves the Constitution of Australia needed to spell out, from 1901 onwards, traditions that had been understood since the 1750s, in the meetings of middle classes in their 'gentlemans club' or their 'scientific associations' or their 'freemasons society',
Constitutional? Example 2: The AFP
Or when you look at the Constitution to get some idea of the necessity for 'independence of the AFP from the Executive' and you find nothing at all, does that mean that the issue is not a constitutional one?
No, of course not.
The AFP does not get a mention in the Constitution because at the time of drafting the Constitution, 1900, the AFP did not exist. In fact the AFP was only formed in 1979 to deal with terrorism nationally, over and above state police forces. http://www.afp.gov.au/about-the-afp/our-organisation/history
That the AFP would finish up acting against a Government-in-office in order to further the political future of its Opposition, and then treat it (the Opposition) differently to the past Government, when the Opposition was in government, was unthinkable in 1901, even in 1979.
But the fact that it has happened in 2013 to 2015 simply means that the Constitution needs to spell it out, in no uncertain terms, that the AFP must be above party politics, independent from, and seen to be independent from, the Executive, and, if they are not, they can be sent to prison (and while they are at it, the drafters of the amendments to the Constitution can add a requirement that the AFP cannot allow members of the Executive to gain any privilege from the AFP (such as a bed in the AFP barracks, or any other power, prestige or privilege provided by the AFP to members of the Executive)) and to do so will constitute a crime under the Crimes Act, punishable by the Head of the AFP spending time in a penitentiary. You get my drift?
Constitutional? Example 3: Declaration of war
Another example is,
There is nothing in the Constitution regarding 'declaration of war', who does it, and the process that must be adopted to ensure proper 'due diligence'.
"Although the major parties may condemn commitment of troops overseas without prior parliamentary involvement when they are in opposition, they have not taken the steps to codify the powers of the Governor-General in relation to war and to legislate for parliamentary oversight when they are in government." http://www.aph.gov.au/About_Parliament/Parliamentary_Departments/Parliam... Good point and well worth serious consideration.
The current situation is untenable. To engage in wars overseas in a cynical manoeuvre, designed to gain political milage at home, suggests Abbott is guilty of immeasurable immorality! (I use the word 'immeasurable' because, in ethics debates, it is well-established that the 'value of human life' cannot be measured).
He is of course not the first PM to do this, and will not be the last, unless changes to the Constitution tidy up this garbage.
So, what has all this got to do with Plebiscites? Do we want it or not?
If Abbott or Pyne asked me "do you want a Plebiscite?" my answer would in general terms be,
>>hey, YES, a Plebiscite is good because it involves Plebs like me in real, direct democracy<<.
But of course we have to take into account the warnings made by Paula Gerber this week in The Conversation https://theconversation.com/with-no-coalition-free-vote-where-to-now-on-...
Her warnings are valid, so we need to dream up ways to overcome the problems with Plebiscites.
Here is my plan to overcome the risks she highlights:
The Plebiscite Routine
- The Plebiscite routine starts with a Petition. The rule is: A minimum number of signatures on a Petition ensures that the proposed legislation will be drafted.
- The proposed legislation once drafted is put before both houses of parliament as a test. If it achieves a majority in both houses, there is no need for a Plebiscite, it can be passed into law. If it fails to achieve a majority in both houses, rule 2 applies:
- Rule 2 states that: because it has achieved its minimum support via Petition, the rules state that it will be tested with a Plebiscite one way or the other.
First way: if the parliament is happy to carry out the Plebiscite, it will do so within 1 month of the vote in the parliament.
Second way: if the parliament does not wish to carry out the Plebiscite, it can call a new election, in which the Plebiscite will be conducted conjointly.
- Of course some legislation cannot be drafted without a change to the Constitution. This is very rare but it could happen. If this is the case, it will give rise to a 'Referendum' not a 'Plebiscite', but little else needs to change in the routine.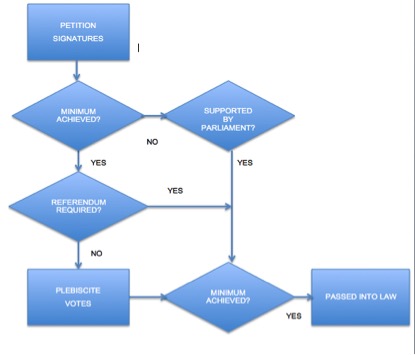 Of course this is a major change to the engagement of voters, and the role of the 'Petition'.
Previous Petitions have been a wish list by voters, who come to the parliament, cap in hand, pleading for support for their important idea.
But, the rules in the routine above say that, if you get enough support for your idea, it will give rise to changes being proposed to the parliament and/or the electorate, changes that will be taken seriously, and properly tested, to determine if there is support for it to pass into law.
This process can only happen if a Referendum happens to write this process into the Constitution which contain guarantees that serious Petitions are dealt with in this manner.
[So, yes, looks like I've covered each of Paula's concerns, except maybe for 'cost'. Let's see what I can do about the huge cost of a Plebiscite:]
Are costs necessarily prohibitive?
In the last NSW election I was travelling outside Australia and I was offered a website by the NSW Electoral Commission upon which I could conduct my vote.
It asked me to register one day and gave me my ballot papers when I logged in at the same time the next day.
In less than 30 minutes over a 24 hour period I had conducted my vote and everyone was happy.
My guess is that it would take little effort to generalise my experience in the NSW general election to the whole country for the purpose of General Election, Plebiscite, Referendum, Bi-election, maybe even Petition, who knows? The costs for different ballots, once the site is set up, would be minimal.
Hey, Thanks Tony Abbott and Christopher Pyne for this week setting me off to consider Referendums and Plebiscites, and the like. I appreciate!