Submitted by Tim Jones on Thu, 09/06/2016 - 4:47pm
If you've followed politics throughout your life, as I have, then you will know about how things have 'developed'.
I became interested in politics as a young Adelaidean during the 1972 'It's Time' campaign. I hadn't realised that my parents were Liberal Party voters until they cheered on Fraser's crimes against democracy in 1975. This made me start to realise my sense of "right and wrong" was separate to theirs. Each of us 'individuates' like this or, at least, we damned-well should.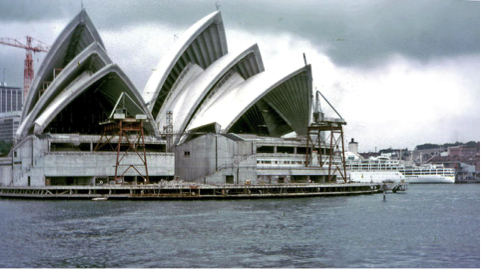 https://en.wikipedia.org/wiki/Sydney_Opera_House
The impact of neoliberalism
Australia has changed a lot since then. The easy-going nation I grew to love, was driven underground, by a brutal modern phenomena called 'Neoliberalism'.
I don't really need to describe what sort of character Tony Abbott is, it's self-evident, but he is the latest weapon this failed doctrine has inspired.  Australia has suffered a devastating conservative/neoliberal assault on its once healthy social democracy and we need to move on.
We need to remember that:
most of the things we once liked about Australia were cultivated through the 'positive flow-on effects' of 'socially democratic' government policies:-

a country run 'for the benefit of its people'.
a country which also welcomes free enterprise as an integral part.
Neoliberalism, in contrast, is when these business people think the country is run 'to benefit them alone' and nothing has done more harm to our good-natured calm than this heartless monomania of neoliberalists.
(People don't describe themselves as 'neoliberalists' by the way, yet it's more a descriptor than a pejorative.)
Neoliberalism can be adequately understood as the economic edicts of Margaret Thatcher's and Ronald Reagan's 'trickle-down economics', which has been shown to result in a 'flow-up' outcome, which has destroyed the well-being and the middle-classes of the western world.
Modern Australia is now run by MBA (Master of Business Administration) types who kiss-up and kick-down, to a damaging degree, in every workplace.  
Cant and repetitive jargon replaces meaningful human interaction, dollars matter more than meaning, and each of us is demeaned by careerists, paid to eliminate humanity in the workplace. We are also lied to by banks, big business, newspapers, television & business-'sponsored' politicians. In fact, we live lives at the butt-end of a great big lie.
As a consequence we are now a smaller country, made up of people made fearful, each less secure, less respected and less hopeful than they would have been just decades earlier.
Each of us survives this disease that is neoliberalism as best we can.
So what's to be done?
Few dare to speak hopefully about the future. One doesn't hear it. The fog we're in prevents us from knowing how to improve our lives or even knowing how to ask the question. Each of us feels outnumbered. We understand the problems well enough but that knowledge hasn't given us insights into how to create a future we'd be happy to live in.
Three simple, but often unstated, facts
1 - We are citizens, a part of a society which calls itself a nation. I elect people to form the government, to run the nation, so that my society is a good place for me and for those who share my 'homeland'.
2 - The people we elect should encourage our nation's economy to be fluid & vibrant so that each of my fellow citizens can lead safe, rich, enjoyable lives and treat us all with the respect we deserve.
3 - We allow government to 'create money out of thin air', to pay for the things that we need.  They do so, and then tax me to remove that money from the system. They do not put my taxes into a bank account, by the way. They just say this money exists, and then they say this money doesn't exist. True story.
Deficit dogma & deficit myth
Dogma about deficits is a popular nonsense which even the most educated of economists perpetuate.
They talk about "balancing the federal budget" as if it was just a household. It's not. 
We are a sovereign nation with a 'fiat' economy, which 'fabricates' its own currency. The only constraint on the amount of money 'made' by government is inflation and this is constrained by knowing the productive capacity of the economy. We can spend as we see fit, to build our nation, by offering a job-guarantee to all those who want to work. This job creation operates counter-cyclically to private sector booms and busts. The government can do this, but they currently don't, because everybody goes on and on about requiring useless 'surpluses'. A surplus, by the way, is just an admission by government that they are not contributing enough to the economy.
The deficit-myth has stymied nation-building here, and around the world, and every two-bit journo harangues their every interviewee with this sad nonsense.
We need to stop believing this neoliberal dogma. We have to label each neoliberalism-driven decision/act as a retrograde step, based on a dogma, built on the most base of human instincts. Business is only one part of a society, and we need to put it in its place.
Citizenship & civilisation
Society is nurtured by its government. All of the government's actions are about the well-being of its citizens and denizens. We can only be hopeful about the future if we each feel confident that 'someone has our back', that our elected government has a real concern about our well-being and we need to be sure that our position as a citizen gives us the right to feel respected & cared for.
It's called civilisation and I want it back.
Personal security, health, a living wage, education, modern infrastructure, an independent broadcaster, long-term environmental policies, a creative art-world & perhaps a rediscovered pride in our country. Life is simpler without wrong-headed ideas, and our children deserve to live in a world which makes more sense than the one they were born into.
Business isn't government; it's just business. Deficits aren't bad, because they're often useful. Fearmongering isn't leadership, because a government isn't 'properly governing' unless it is caring for each individual of the society it has promised to serve. (This means every person, of course. Not just "hetero white males of means and influence".)
We need to see that we are stuck in a rut and only better ideas will get us out, Our government should not be made up of spivs and careerists. It should be populated by people who have the people of this country at heart.
Tim Jones
*Note:
I am currently helping Iain Dooley get Professor Bill Mitchell's MMT ideas into the community through the Australian Employment Party
https://t.co/sjqTl1RZ7w
(not yet registered).
This is 1st in the BloggerMe Series "who2vote4 & Y?"
A series of blogs by independent thinkers
on the coming Australian federal election 2016