Submitted by Steve Irons on Fri, 01/08/2014 - 11:53am
Introduction
Abbott's mandate? Yes or No
We are suddenly in new unknown territory with "passage of the money bills by the Upper House" uncertain.
A useful overview of current state of play from Latika Bourke  where Abbott asks Clive Palmer to respect his mandate: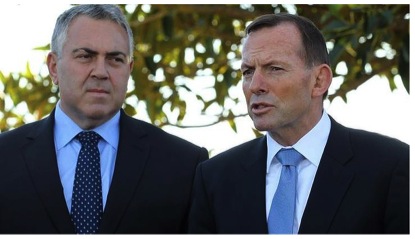 https://twitter.com/latikambourke
See http://www.smh.com.au/federal-politics/political-news/respect-our-mandat...
Right to govern & right to Supply
On 15/9/2013 I argued that Abbott had a right to govern and a right to Supply but had no significant mandate; See http://www.bloggerme.com.au/what-mandate
Joe Hockey blew that right to Supply 13 May 2014 with a Budget that noone saw coming! (Note: See one example of a Budget item that bears significant similarity to almost every item in the Budget: http://www.bloggerme.com.au/australian-budget-2014-end-regionalism )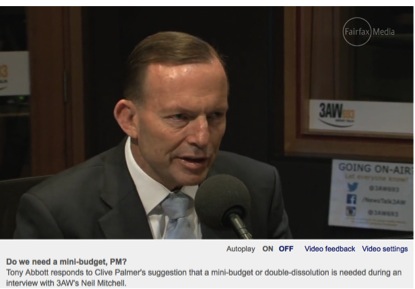 http://www.smh.com.au/federal-politics/political-news/respect-our-mandat...
Clear mandate?
There are a couple of exceptions to this general "lack of mandate". Abbott could rightfully argue that he had a mandate to (a) remove the previous government's "mining tax", (b) remove the previous government's so-called "carbon tax" (referred to elsewhere in the world as a "price on carbon (POC)") and (c) introduce "6 months full-pay paid parental leave (PPL)". These policy items had been seriously promoted and discussed in front of the voters prior to the election, and for anyone to now claim that Abbott had "pulled a swifty" on these couple of budget items is laughable.
Abbott is hung up on the 'mining tax' for obvious reasons saying (listen to his statement above)
… we need the cross-benches in the senate to respect the government's mandate and we did get a clear mandate to get the budget back under control; we got a clear mandate to repeal the mining tax and the spending associated with this tax; it's raising little money but causing a lot of disruption to investment and to employment and so … look um we will sit down with the cross-benchers and we will respectfully talk to them about what we have in mind but um what they have to accept is that we have a debt & deficit disaster; we are borrowing a billion dollars every single month just to pay the interest on Labor's debt and we cannot continue to spend money that we just don't have ...
http://www.smh.com.au/federal-politics/political-news/respect-our-mandat...
Lack of mandate?
So forget for a moment the reason he offers, Abbott is pretty clear about his mandate to remove the mining tax and I would have to agree with him. I would also agree that he has a mandate to repeal the POC and introduce the PPL. I don't agree with either of the policy initiatives and both have received widespread condemnation from experts in the fields, including for the POC from experts across the world; but that is not the point; in the election the people have spoken and have given him a clear mandate to implement his policies. 
However, when you look at the Budget, almost every other item in the Budget lacks any sort of mandate. That is to say, if you take any other major 'Item of Change' in the Budget and check that change back to Abbott's promises in the run-up to the election, you would have to conclude, for one reason or another, that the mandate he is now seeking support from the cross-benchers for does not exist. 
What is a mandate?
That is of course if you accept my definition of 'mandate'. Let us just revisit that for a sec to understand clearly what a mandate is.
The concept of 'mandate' relates to the incoming government's right to govern free of impediment from an Opposition who may be in a position to block or delay the introduction of these changes. If a government has a mandate, it is said that these changes are 'legitimate' and any attempt by the Opposition to block or delay these changes is 'illegitimate'. [...]
So mandate relates to the legitimacy of a particular policy. By outlining this policy to the electorate prior to the election and making it a key part of the party's political platform, the incoming government is said to earn a 'mandate' to introduce this policy, free from the fetters of opposition within the parliament, an opposition keen to restrict the ability of the new government to perform. [...]
But there are a few provisos:
If you are going to argue you have a mandate, you have to have fulfilled the requirements as detailed above:
You have to have stated clearly the policy and detailed the impact of the policy, prior to the election. New governments who attempt to introduce a policy that they did not make public during the election campaign are said to not have a mandate to implement that policy.
You need to have been open and transparent about the costs and the benefits of the policy. New governments who hide the costs and or the benefits of that policy from the public are said to not have a mandate to implement that policy.
http://www.bloggerme.com.au/what-mandate
What should Abbott have said in the run up to the election to be able to claim a mandate now?
The absurdity of Abbott's claim now for a mandate to implement changes represented in the Budget are best reflected by a re-write of what Abbott should have said to the electorate in the run-up to the election in August 2013 to be able to claim that he has a mandate now:
Imagine Abbott had said this in August last year:
I will modify Labor's National Broadband Network (NBN) programme, dumping any idea of fibre to the home (FTTH) and replacing it in some key places with fibre to the node (FTTN). As the Internet is already operating at the speed of light, linking the local small business or the home to the FTTN with copper wire provides little or no benefit to the household/small business as the benefit over the small distance of the fibre from the major city link to the node is virtually zero. So those who will benefit from my new policy are only a few big players who have the money to run fibre from a nearby node and fit out their major buildings with fibre. You little'uns can do it but the costs per business or home will generaly be unsupportable when compared to benefit.  I hope you understand that big business needs this node much more than you do! I am making this change to obtain benefit for one key person only. Of course he is not an Australian citizen but he runs important newspapers & TV stations across Australia and will use these newspapers & TV stations to help me get elected, so he is entitled to a bit of benefit, isn't he? If the NBN as originally designed was to be implemented, a major investment of his, that makes high profit by providing access to films in the home, would be quickly worthless and we can't have that, now, can we?
I am going to dump Gillard's plans for widespread improvement in education, known as the Gonski school funding plan. I was going to guarantee her commitments dollar for dollar, but we just can't afford it. I am going to cut $2.67 billion in state schools and $1.21 in private schools which will nullify any improvement from Gillard commitments on Gonski. I will be making other significant cuts in government commitment to education but I will however be spending some $245 million to get some religious chaplains back into state and private schools, even religious private schools will be eligible for this commitment to reintroduce the religious chaplaincy of the nineteenth century into the modern school environment. After all, they don't call me a man of god for nothing. Does this include Buddhism & Islam? Oh come on now!
I am going to make a huge saving in government funding by cutting the loans to students under HECS & HECS HELP. At the same time the education fees are expected to rise dramatically as government funding to colleges and unis are reduced and unis encouraged to pass on increasing private funding to the 'user' via higher annual fees. This fits with our new world view which Joe Hockey will spell out in May which he will call the 'Age of Entitlement'. I know this will make it impossible for many poor working class kids to get to college and university and it's a bit like returning to a privileged elite that went to college & uni in the seventy odd years prior to Whitlam, leaving those that do get there with a huge debt to repay to the public purse once they start working but Labor started it and if we don't do this the students just won't realise how lucky and privileged they are. People have come to expect education as a right not a privilege and they have to realise that some are after all more entitled than others.
I intend to set aside funds for funding naval vessels to give to Sri Lanka in an attempt to cut off attempts by those tortured by the Sri Lankan government to come our way on the high seas. If I can get away with it in the High Court I will also seek to return Sri Lankan asylum seekers back directly to the Sri Lankan government. I know that it is generally understood that this is against the human rights of those asylum seekers and illegal under international law but this will act as a useful deterrent to others seeking asylum. Anyway, Labor started it by introducing 'mandatory detention', which is also against human rights; we are just tougher than they are.
I will make myself out to be a man of fairness and honesty and justice by declaring myself to be the 'prime minister for aboriginal affairs' but this will just be a nicety. I will water down the impact of aboriginal affairs on the national purse by including religion and big business on the advisory committee and removing aboriginal activists from the committee and I will offer strong bipartisan support to Labor's decision to entend the John Howard racist 'Northern Territory Intervention' campaign for another 10 years even though it is seen across the world as against the human rights of Indigenous peoples. I will make major cuts in the Budget to all levels of 'aboriginal affairs' funding, selling the cuts to the Punters as simply an improvement to bureaucratic efficiency and the cutting of wasteful over-servicing. This fits well with long-standing traditions of 'aboriginal affairs' since federation.
I will sell the need for major changes in the Budget as a 'debt & deficit disaster', cuts to social spending necessary to "bring the budget under control"; at the same time I will double the deficit when I get into power claiming it was necessary because of global risks (even though the Reserve Bank will disagree) and double it again in the Budget's forward estimates period, all the time making public statements that it is Labor's debt that I am dealing with and that this Budget is finally bringing it under control. The MSM (especially the conservative talkback shock-jock radio hosts) and the dickhead voter will cop every one of my and Joe's claims as being a justification for cuts they will need to cop and continue to blame Labor for it. At the same time, when I or Joe are overseas we will claim to key foreign government Treasurers and ministers that the Australian economy is robust and there is no disaster at all. My newspaper magnate friend will keep that from the punters using his ability to control the news of the day.
I intend to introduce, through Medicare, payments for medical services that are at present free in an attempt to curb overuse of medical services by patients who should know better. I know medical practitioners and health industry agencies will provide strong evidence that the Australian medical industry does not suffer from this problem but we will do it anyway, just in case. 
I intend to extend retirement to the age of 70 in an attempt to curb burgeoning public welfare payments as the population ages and life expectancy improves due to better health choices and better life choices (unless of course you are in Indigenous populations). I mean in the age of entitlement we can't have ordinary people feeling they have a right to sit around and enjoy life just because wealth is generally improving and they have worked hard all their lives to earn this right, now can we?
Every social payment made to the punters will suffer from cuts in an attempt to distribute in a fair and equitable manner (unless of course you are a mining magnate or a rich industry magnate able through smart rehash of outcomes (such as my friend suing the ATO to get nearly a billion dollars refunded by introducing accounting niceties) cut the level tax payable to a tiny percentage) the cost of government tightening its belt. These cuts will include:
Medicare levy (increase to 2%)

Medicare levy low-income threshold for families increased 

Medicare rebates reduced 

Increased qualifying age of pension to 70 years

New Debt Levy of 2% for taxpayers earning over $180,000

First Home Saver Accounts scheme to be abolished

Company tax rate falls to 28.5%

FBT increases to 49%

Super rate increases to 9.5%

Changes to HELP repayment thresholds reduced,indexation, and loan fees increase 

Mature Age Workers Offset scrapped

Dependent spouse tax offset abolished 

Newstart eligibility age increased & tests harsher 

FTB & Single Parent reduced 

New PPS maternity leave payments up to $50,000 

Changes to ATO trust MIT R&D etc rules 
Is there a mandate, really Tones?
Anyway, I could go on and on. My point actually is a simple one. In order to claim a mandate Abbott had to have given us some inkling as to what was in store for us, once he got to power. He didn't do that and his mandate therefore cannot be found.
This lack of mandate is the reason why the vote by Latika's SMH readers is so biased against the passage of the money bills. Usually people respect the government's right to Supply. But if you lie to the electorate, you better be ready to cop a backlash.

http://www.smh.com.au/federal-politics/political-news/respect-our-mandat...
The passage of the money bills is up to cross benches and not up to parliamentary traditions. It is an interesting moment.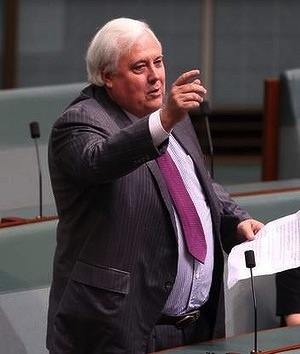 http://www.smh.com.au/federal-politics/political-news/clive-palmer-hits-...
Clive, were are hooting for you!
READ MORE:
http://www.abc.net.au/news/2014-05-06/has-the-government-doubled-the-bud...
http://www.smh.com.au/federal-politics/political-news/clive-palmer-hits-...
http://www.budget.gov.au/2014-15/content/bp2/html/bp2_expense-09.htm