Submitted by Steve Irons on Mon, 08/09/2014 - 12:36pm
Broad overview of evaluations via MSM & Social Media
!
V
There are at least 100 things to take a look at at this point in the cycle.
http://ap-perspective.blogspot.com/2014_04_01_archive.html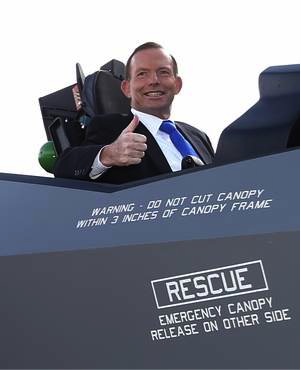 Some notes on 100 Key Changes brought about in the first year of the Abbott Govt
 

KEY CHANGES

COMMENTS

1

Royalism vs. republicanism

Abbott has promoted the general view of himself as a promoter of English royalty & played the visitation by royalty for what it was worth. He has done what he can to put republicanism on the back burner, including changing the Oath by the cabinet, promoting a return to knighthood, and promoting "the flag day". He stuffed up on the replacement of the Governor General by offering her a knighthood without telling her (in case she told him not to) or consulting the Queen, which looked pretty bad to those looking on, but he seems not to care; his object is not the promotion of royalty but the weakening of republicanism.

2

Strengthen security

Abbott talks about Biometrics at airports $650 million; counter-terrorism $630 million not sure if they're the same or different

3

The Intervention

The Intervention in the Northern Territory was a racist intervention introduced by Howard to try to get elected when his time was up. When the ALP won that election they continued with this racist intervention, even though UN officials and others brought it into question around the world. Gillard had prepared for an extension of this intervention for another decade to the dismay of many Indigenous key persons and other concerned key persons & Abbott was happy to support it when he came to power. Australia is not prepared to subject this intervention to UN scrutiny because it knows it will not survive proper inspection.

4

UN "right to asylum" vs. "illegal"

When the Abbott government came to power a key minister, Scott Morrison, issued instructions to his department that asylum seekers were to be called "illegal", even though his department knew (and the parliamentary library knew and legal advice was freely available from the universities) that this was not correct. This was to build further dissatisfaction by an uninformed public, essential to support harsh treatment of asylum seekers.

5

The NBN

The NBN was modified to virtually exclude fibre to the home (FTTH) in a clear policy in favour of a key supporter of the incoming government, Rupert Murdoch, who helped the government get elected. This will put back the generic application of fibre optics, limiting its use to medium to large corporations, for a decade, thereby protecting one of Murdoch's key assets in Australia.

6

Climate change

Major players in the government have identified themselves as sceptics, some not accepting that global warming is occurring at all, and some not agreeing with science, accepted all over the world, on the human cause and what should be done about it. Abbott is happy to be part of this backward influential group of ministers & backbenchers. Parliamentary traditions state that it is not for ministers to allow their personal ignorance to get in the way of professional governance and that science needs to remain under the control of the scientists. The Abbott government is ignoring this tradition, with large numbers of key people concerned that future generations will pay a huge price for their ignorance and arrogance.

7

Referendum local govt

Under Labor the courts ruled local government could not continue to be funded directly by the Commonwealth. Labor decided to hold a referendum to give local government a formal place in the Constitution. The LNP supported the idea while in opposition but have dropped it in government. No clear understanding is available in the electorate about how this is impacting on local government across Australia.

8

International scene

The international scene has been going through a new attitude to Australia because of the new kid on the block.

The support for Sri Lanka was the first moment, early in the new government, when other international statespersons called for Abbott to change his position, but he refused to listen and openly muddied the waters, getting in the way of others' concerns for Sri Lankan failure on human rights.

Abbott openly called for international players to "count him out" of the climate change summit, snubbing important players in Warsaw and embarrassing Australians across the world.

Abbott took on Indonesia over a number of matters in which he was obviously in the wrong and was refusing to apologise.

He even told Obama he had differences with him as Obama moved to implement real climate change protocols.

Abbott took the side of Japan in dispute with China as a way of kissing the US's backside. China is our key trading partner.

At present his respect around the world is minimal, but it doesn't seem to concern him. He reckons it's worth it in the long run.

9

Minister for women

Abbott assigned the role as Minister for women to himself & has not performed. This is seen as a cynical manoeuvre to downgrade the role focussing on "the enhancement of the position of women" in society to "completely unimportant" to his government. Women are not considered necessary to the cabinet and were not given any priority in the Budget.

10

Minister for Aboriginal affairs

Abbott assigned the role as Minister for Aboriginal Affairs to himself & has not performed. A major promise in his lead up to the election was to spend time as PM with Aboriginal elders & families in their own environs as a symbol of common interest, respect, & the government's concern for their future. His failure to deliver sends a message that downgrades the importance of the goal of enhancement of the position generally of Aboriginal & Torres Strait Islanders in society & to his government. Not only did he not attend, but he also promoted a savage cut in the Budget for Aboriginal affairs. (See below).

11

Minister for science

Abbott sacked the Minister for Science, which has seriously downgraded science in the bureaucracy, leaving science under Industry, which biases science towards application and away from discovery & innovation, blue-sky research. Ian McFarlane is calling himself the minister for science but his portfolio is industry dominated & science is only represented in the agencies.

12

Indigenous advisory council

Abbott replaced Labor's Indigenous advisory council with one that had more inclusion by big business and included other players who have little interest in the realities of Indigenous life.

13

Slipper

Abbott got one of his shadow ministers (it looks like Christopher Pyne if we believe statements made to 60 Minutes last night) to organise the public humiliation of the Speaker of the House and his referral to the AFP in an attempt to pay him back for siding with the minority government and to force a change of government. Slipper was the only MP dealt with especially by the AFP as the Minchin protocol required the AFP to refer him to the Finance Dept. 

14

Speaker of the House

Since the fall of Slipper from public life, the Speaker of the House of Representatives generally has lost the respect of the House and the general public, and Abbott has done nothing to restore it. Bronwyn Bishop is extremely partisan & Abbott is happy for her to continue to play this partisan game, which observers find cheap and nasty. Abbott easily abandons long-standing traditions in return for power and expediency.

15

Independence of the AFP

The taking out of Slipper has blurred the traditional independence of the AFP. The MSM have not seen any problem with it. Abbott lives in AFP barracks accommodation and no questions are asked about the need for independence of the PM from the AFP. Slipper was taken out by the AFP, following a referral by one of Abbott's shadow ministers for a small amount of improper expense claims, by the AFP, aborting normal Minchin protocol reference back in this particular case. The AFP pursued Slipper relentlessly until he was charged & found guilty by the court. Huge amounts have subsequently been found to be stolen by a huge number of Abbott's MPs and Ministers, including Abbott himself, and they have all been allowed to pay the money back under the Minchin protocol. One of these was absolute fraud. The AFP have dealt with a number of external complaints about this by saying they are following the Minchin protocol. The MSM have no interest in this bizarre lack of independence and are unconcerned about how this type of malpractice has impacted on legal practices & human freedom in other countries and how it might impact on Australia if it not properly dealt with.

16

Support for Sri Lanka 

When at the Commonwealth meeting, at a moment when other leaders were trying to bring an end to Sri Lankan failures on human rights, Abbott formalised his support for Sri Lanka with purchase of boats to help the Sri Lankan government stem the flow of those continually being mistreated and seeking to leave and seek asylum elsewhere, such as Australia.

17

Race Discrimination Act

Attempts were made by the Attorney General George Brandis to do the bidding of major supporters such as Bolt & IPA by removing 18C from the Race Discrimination Act, allowing racism to occur without fear of prosecution. But he stuffed this up by his shrill call to allow people to be bigots as a human right, which was laughable, and showed everyone where he was coming from. Abbott backed down in order to promote other more important approvals.

18

Transparency

Transparency & openness is a key function of modern democracy. It is understood that secrecy will quickly corrupt a vibrant democracy. The Abbott government is committed to secrecy. Scott Morrison is the key culprit, carrying out instruction from Abbott, in which he quotes "operational strategy" making secrecy necessary. Ex Defence Force Chief General David Hurley has told us that this is inappropriate but this doesn't seem to matter to Abbott or Morrison. Morrison told a lie about the uprising in PNG saying it had nothing to do with Australia. He hid important information about the state of detainees, the mistreatment of detainees, the sexual abuse of detainees, the killing of detainees and the distress of detainees including children causing serious and lasting mental illness. At present the government is negotiating with Cambodia about shipping detainees there, but fail to inform the public of huge problems with human trafficking in that country which will be ignored in order to do a deal.

19

Spying on Indonesia

Australia was found spying on Indonesia under Rudd/Gillard. Rather than accept established protocols, and to eat a bit of humble pie, Abbott preferred to treat the other country with disrespect in a public forum. Now that a new relationship is emerging, he is smug, thinking that his protocol should take precedent in similar instances in the future. Australia still has a price to pay for his lack of sense & sensibility.

20

Malaysia MH17

Abbott was doing badly in the polls and, when the Malaysian airline flight MH17 was shot down over Ukraine, he got involved personally and put unarmed personnel into the middle of a civil war conflict. He was a very lucky man that noone got shot.

21

Malaysia MH370 

Abbott was doing badly in the polls &, when the Malaysian airline flight MH370 went missing, he went out of his way to handle public expressions himself. He said things that in hindsight are outrageous because they were based on the assumption that the plane or bits of it would soon be located and he wanted to be associated with its discovery. 

22

Renewable Energy Target (RET)

Abbott gave assurances that the Renewable Energy Target (RET) 20% would be maintained but like his other policies it was just window dressing. He appointed a fossil fuel magnate & sceptic to head the team to prepare the review which recommended, surprise, surprise, the trashing of the RET. An international report by IPCC in the following week says the opposite. Wonder who Mr sceptic will listen to?

23

Direct action

Abbott promised to do away with the price of carbon, and he and his minister Greg Hunt have been successful. Clive Palmer PUP included a non-starter Emissions Trading Scheme ETS in his negotiations. Abbott was going on about Direct Action being better than a price on carbon or an ETS. This is hoo-harred all over the world as nonsense. Abbott's Direct Action plans have been very vague and lacking in detail. There were a couple of guys out there a few weeks ago with him with a golden shovel but we've seen little else. But they say that since CSIRO has lost so much funding in the Budget, it'll never get off the ground. Oh well, ...

24

Timor Leste document seizure

Australia was involved in negotiations with Timor Leste over oil & gas worth billions. During those negotiations they raided the office of the Timor Leste team. This was taken to the international Criminal Court & Australia was ordered to seal the documents.

25

Return asylum seekers to Indonesia

Abbott & Morrison arranged for boats on the high seas to be shipped back to Indonesian waters, despite being told in no uncertain terms that Indonesian wasn't accepting them back. The navy on several occasions apologised telling their counterparts that they made a mistake or they had forgotten how to read their instruments or their charts or some other stupid lie, which was embarrassing not only to them but to us who received derision around the world.

26

West Papua

When Abbott first came to power he was confronted with some of the worst human rights violations imaginable happening in West Papua & he dealt with it by mocking their plight & with derision for parliamentarians keen to see action. This was in keeping with the general attitude of the Australian government in the past on both sides of the House trading in human rights of West Papuans for good relations with a powerful neighbour.

27

Return asylum seekers to Sri Lanka

A boat containing Sri Lankan refugees was held on the high seas for a month. They had come from India and the original idea was to ship them to Sri Lanka, but Abbott didn't have the guts to make it happen. They tried to ship them back to India but India refused. So they finally shipped them off to Nauru to be treated badly.

28

Shipping asylum seekers to PNG

Morrison has removed protocols for checking new arrivals before shipping them to PNG & Nauru, seeing them as niceties that are inappropriate to the process. On PNG unlawful mistreatment of detainees includes unlawful lock up in containers.

29

Shipping asylum seekers to Nauru

Sometimes this has resulted in serious mistreatment with people with disability having their medicine removed causing serious outcomes.

30

Children in detention

In a recent UN enquiry into the plight of children in detention Morrison tried to tell us that detention was not a prison. The UN was not having any of it and we watched from the sidelines in disbelief.

31

Detention is prison

The UN replied that that is precisely what it is, and the conditions are appalling.

32

Mandatory detention is Illegal

Mandatory detention is Illegal under international law, despite what MPs on both sides of the parliament tell us. A submission has been made to the International Criminal Court naming Tony Abbott, Scott Morrison, Michaela Cash, Julie Bishop, Former Chief of the Defence Force General David Hurley and Commander of Operation Sovereign Borders Lieutenant General Angus Campbell.

33

Education college/university fees increase dramatically 

Education college/university fees are being allowed to be increased so that the universities can get maximum benefit from the market. This will take us back to prior to 1972 when Whitlam introduced free college/university education.

34

Education fees threshold reduced & loan fees increase

Changes to HECS/HELP repayment thresholds are reduced; indexation, and loan fees increased & will result in fewer working class kids entering college/university & kids starting their working lives with huge debts to pay back.

35

Gonski

Abbott promised Gonksi would be maintained for the first 3 years, but the first Budget removed it completely; along with major cuts to education as well. He and Christopher Pyne couldn't bring themselves to say they had failed to honour their policy commitments before the election.

36

Budget Emergency

Prior to the election Abbott & Hockey went on & on about Budget Emergency. This is against the traditions of taking care not to talk down the economy. This is against the realities that the Australian economy is the most robust economy in the western world. When they got into government, the emergency disappeared and there was no need for a mini-budget, which is what you do in cases of budget emergency. See 54.

37

Government swearing in to the Queen

When the Prime Minister was sworn in his Oath was to the Queen, which had not been done since modified by Keating. 

38

Knighthood

In March of this year Abbott reintroduced English royalty into Australia by the reintroduction of 4 knights/dames per annum. His own party felt they had not been consulted and were unhappy with the reintroduction.

39

Obstructing climate change actions

Abbott sacked the members of the Climate Commission. The public cry was immense. The public gave generously and the board has been able to reconstitute itself as the Climate Council. He still doesn't get it!

40

Price on Carbon

Abbott removed the price on carbon, allowing industry to pollute without cost. Greg Hunt now has lots of pals. This is seen around the world as a major blunder. For three decades now it has been well understood that future generations will be required to pay the cost of burgeoning defecation caused by our failure to bring the polluter to account. This is no ignorance on his part; it is an act of malice and forethought.

41

Mining tax

Abbott removed the mining tax allowing mining corporations, many of them foreign companies, to earn money for their shareholders without making any contribution to the long term future of Australia, payments considered necessary in return for the diminution of the country's resources, as wealth is extracted from the mine. 

42

Superannuation on hold for 5 years

In return for PUP's support for the removal of the price of carbon and the mining tax, Abbott agreed at PUP's insistence to put a hold on superannuation for 5 years, which will impact on the retirement of thousands of workers.

43

If the money is not paid into Super, you can get it in your pocket

Abbott has been going around since the PUP agreement telling everyone what a great thing it is cos the worker can have this little payment that was going into super in his/her take home pay and be better off immediately rather than upon retirement. But no boss has agreed to that one!

44

Deaths in asylum seeker detention

There are continuous deaths in detention & on the high seas but information is scant. This is because Scott Morrison won't say anything because of "operational requirements for secrecy". Yeah, sure! The last three deaths are diabolical; one man Reza Barati killed intentionally by staff during an uprising in PNG, 77 injured, 12 seriously.  One man Leo Semmanpillai living in the community awaiting his application to be considered burned himself to death. One man Hamid Kahazaei who failed to get proper treatment for what would otherwise be a minor ailment died on his way to the hospital.

45

ISDS national sovereignty being traded away in foreign trade agreements

ISDS (or Investor-State Dispute Systems) creates a parallel legal system that allows foreign investors to sue Australian taxpayers if Australia passes laws that reduce the value of their investments or their profits. Since Abbott was elected, Australia has progressed with two trade agreements that place Australia at risk of Investor-State Dispute Systems (ISDS)  — one already signed with Korea (which definitely includes ISDS) and another close to agreement with Japan (which may include an ISDS). We are not being told anything about these changes and Australia's sovereignty is being traded to the highest bidder.

46

TPP Trans-Pacific Partnership

Negotiations for the Trans-Pacific Partnership agreement involve 12 countries, which account for up to 40 per cent of the world's GDP. Initial participants in the TPP on one side of the Pacific would include Australia, Brunei, Japan, Malaysia, New Zealand, Singapore, and Vietnam. On the other side are Canada, Chile, Mexico, Peru and the United States, with others able to join the pact later. It is largely being negotiated in secret & we could find ourselves, especially in agriculture, worse off. We need the government to involve the Parliament, the Senate and the producers and consumers.

47

Cut expenditure on Aboriginal affairs

Under the non-minister for Aboriginal Affairs the plight of Indigenous Australians has taken a heavy beating in the Budget. Abbott promoted with Hockey a savage cut in the Budget to health & social services, grants and Indigenous involvement in local development, essential to life of Indigenous communities. These were sold by Hockey as simply ways of removing waste of inefficiency & overservicing under Labor, but Indigenous communities are suffering from a reduction in already poor services. This puts Abbott at one historically with governors and premiers who have downgraded the importance of Indigenous communities since the establishment of the colonies in the 1800s.

48

Cut expenditure on Foreign Aid

Foreign aid cuts constitute 20% of all cuts but only 1.3% of budgeted expenditure. This is a serious realignment of Australia around the world.

49

Change of focus from human needs to economic relationship

Abbott has also spoken about a realignment of expenditure type to realign foreign aid with Australia's commercial best interests. This may make sense to those who like "Open For Business" and are ignorant of the realities of human suffering, but anyone operating in an NGO or in the provision of foreign aid is livid.

51

Paid Parental Leave PPL

Paid Parental Leave was a major policy change promoted by Abbott in the run up to the election. It is seen as one item that he has a mandate for although support for it is strongly divided on party lines. He has yet to see significant support for it in the Senate.

52

Personal privacy & Metadata data retention laws

Collection of metadata from all citizens and retention for a significant period related to (so-called) 'threat of terrorism'. Abbott is happy to see the privacy of Australians lost to the metadata world. Since he was doing badly in the polls & needed to show his face on 'other matters', Abbott snubbed Turnbull (who is responsible for the portfiolio and the only member of LNP who knows what metadata is) and went out with Brandis on MSM to explain the govt changes on metadata. It was an absolute farce & needed Turnbull who heard about it on television to come in & clean up the mess. Since these ministers haven't got a clue what they're talking about, including Abbott and George Brandis, we can only assume this direct development/payment/limitation on personal privacy was requested by AFP/ASIO/CIA.

53

Referendum for Inclusion of Indigenous in the Constitution

Abbott told Indigenous key players that he would support a referendum to include Aboriginal & Torres Strait Islander peoples in the Constitution. These key people are seeking to have real discussion on how this is best achieved but noone seems to be home at present.

54

Debt

Hockey went on and on about Labor's debt, but Hockey doubled the debt even though the Reserve Bank advised against it, saying it wasn't necessary. Hockey then doubled it again in forward estimates, all the time blaming Labor.

55

 

GP Co-payment

Hockey has promoted a Co-payment to the GP by each patient, when he she attends the surgery. This will completely re-write universal health care that has become central to life in Australia & attempts to take us back to pre-Whitlam days or else ship us to the US. We have watched for three decades progressives in the US trying to get some form of universal health care and seen how difficult it is. This is the thin edge of the wedge.

56

Medicare levy 

The Medicare levy is a levy raised by the tax department and will be increased to 2%

57

Medicare levy low-income threshold

The Medicare levy threshold for families will be increased

58

Medicare rebates 

Rebates under Medicare are to be reduced 

59

Age pension

Increased qualifying age of pension to 70 years. This means that aging workers will find it more and more difficult to find work & their life made more and more unpleasant as they approach 54 years of constant work. Hockey described workers with experience of physical labour learning new light skills in an office environment and we all had a bit of a laugh (did we, well you might of)

60

Debt Levy 

New Debt Levy of 2% for taxpayers earning over $180,000. Hockey introduced the threat of a debt levy to try to force the Independent/Cross benches to give him the passage of his Budget intact. This was uninteresting to those he needed for passage of the Finance bills & shows Hockey is unrealistic about the need for proper dialogue & explaining and building support for his harsh Budget.

61

First Home Saver Accounts scheme

Will be abolished

62

Company tax rate 

Will fall to 28.5%

63

FBT Fringe Benefit Tax

Will increase to 49%

64

Mature Age Workers Offset 

Will be abolished

65

Dependent spouse tax offset

Will be abolished

66

Newstart eligibility

Age increased & tests harsher

67

Family Tax Benefit FTB & Single Parent 

The Family Tax Benefit for those with a dependent child or secondary student under 20 not receiving a pension, payment, or benefit such as Youth Allowance is to be reduced

68

Family Tax Benefit Part B (FTB-B) 

Limit to $100,000 or less youngest child is under 6

69

Pensions

Change the indexation to CPI only will save a lot of money for the Govt

70

Newstart/Youth Allowance under 30s

6-month waiting period, how you survive is not our problem, 

71

Newstart/Youth Allowance under 30s

Payment only for 6 months, after that you're on your own, as if you were in a 3rd world country

72

Work for the Dole for under 30s

Work for the Dole will focus on under 30s

73

Extra burden on under 25s 

Lower payment rates, tighter eligibility, I mean if you're young what do you need money for?

74

Regional students

End relocation scholarships for 

75

Other family payments

Pause indexation, reduce supplementary payments and tighten eligibility for 

76

ATO trust MIT R&D etc. 

Changes to Rules will come in force

77

Tax-free superannuation

Include in the income test for the Commonwealth Seniors Health Card (CSHC)

78

Income test for all social security payments to assess deemed income from financial assets

Lower the income thresholds used in the 

79

Disability Support Pension (DSP) recipients

Limit the period for which the disabled can travel overseas and remain eligible to 28 days in a 12 month period (with some exceptions for special circumstances)

80

Disability Support Pension (DSP) recipients

Remove the three month backdating from the date of claim for Veterans' Disability Pension and

81

Disability Support Pension (DSP) recipients

Abolish the Pensioner Education Supplement and Education Entry Payment.

82

Disability Support Pension (DSP) recipients

Apply participation requirements to certain DSP recipients aged under 35 years who have had their eligibility reviewed against the current Impairment Tables

83

Seniors Supplement - do you hold a CSHC or Veterans' Affairs Gold Card?

Cease payment

84

Clean Energy Supplement

Rename as the Energy Supplement & permanently cease indexation, I mean we don't want anything to be 'clean' now, do we?

85

Parenting Payment (Single)

Index it to the CPI only by removing benchmarking to Male Total Average Weekly Earnings

86

Newstart Allowance and Sickness Allowance

Ordinary Waiting Period of seven days already applies

87

Widow Allowance, Parenting Payment and Youth Allowance (Other)

Apply the same Ordinary Waiting Period of seven days

88

Six-week overseas portability period

Limit it for students

89

Family Tax Benefit (FTB) 

Maintain standard payment rates for two years from 1 July 2014.

90

Workers pay & conditions

Abbott has given his minister for workplace relations Eric Abetz the job of making significant changes to workers' pay & conditions. This has been kept pretty quiet but those who went through Howard's Workplace Relations Act can see it coming.

91

Minimum wage

What Abetz & his mates are going on about is to impact on the minimum wage with a view to reducing it to zero; now that's an interesting wage level, I must say.

92

Overtime & penalty rates

They also want to get rid of penaly rates so if you are a Nurse working through the night you will get no benefit.

93

RAAF Purchases

Abbott approved new expenditure allowing Defence to order up to 86 American made stealth fighter jets for the RAAF, $14 billion, Australia's largest ever order form Yee-Haaa! (See above)

94

War footing for Iraq/Syria

Abbott is keen to go to war & is waiting to be called by Obama. He has taken the power to engage upon himself & shall not discuss it in Parliament. When Howard did that "Weapons of Mass Destruction" was already known by key players such as Tony Blair to be a lie, but it suited his purpose to go with the US. A million people died and that action has given rise to the insecurity being spoken of in the region. It seems we have not learned one iota.

95

A punch up with Russia

Abbott has been happy to follow NATO into economic sanctions with Russia over Ukraine. Farmers have been hit hard but noone seems to care.

96

Open for Business - Repeal Day

Abbott's 'Repeal Day' was to remove restriction-limiting development. Remove 'unnecessary' controls established for environmental protection & allow development.

97

Open for Business - Build the Roads of the twenty-first century

Abandon rail development & replace it with road development

98

Open for Business - Less Support for Farmers

Reduce support for farmers making them more subject to risk, subject to the market forces

99

Open for Business - A little bit of fracking goes a long long way

Early in the government Ian McFarlane & Tony Abbott seemed to do a big backflip, moving from supporting the farmers who were against fracking prior to the election to support the miners & manufacturers & fracking & other developments in the face of opposition by local farmers after the election. He knows where his bread is buttered.

100

Open for Business - let the market decide

When the Nationals went to Hockey for special treatment he told them to take a running jump, he was going to let the market decide. This was not well received. But little seems to have happened.