Submitted by Mark Goudkamp on Mon, 27/06/2016 - 2:18pm
Protest on Nauru
Every day since 20 March, asylum seekers on Nauru have demonstrated in the family camp, OPC3, against almost three years of detention in appalling conditions on Nauru.
While Malcolm Turnbull boasts that there are no longer children in closed detention in Australia, he wilfully holds children, women and families in detention in mouldy tents, and confined, with no future on Nauru.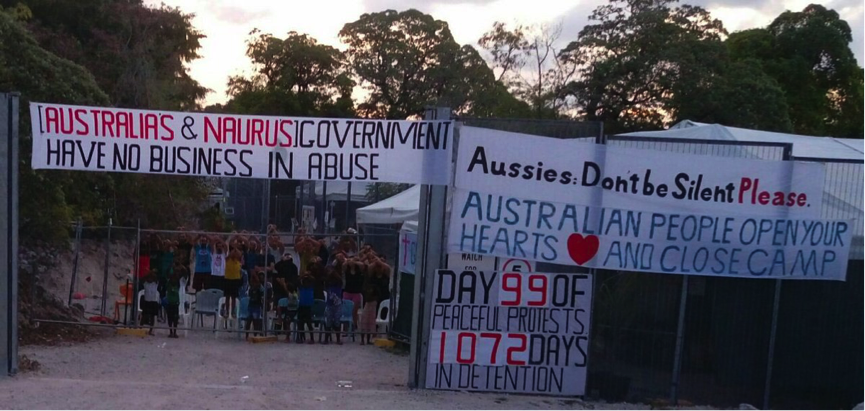 Despite efforts by Broadspectrum, Wilson's Security and the Nauruan police to stifle the protests, they have spread to other camps of asylum seekers and refugees, since they began in OPC3 in March.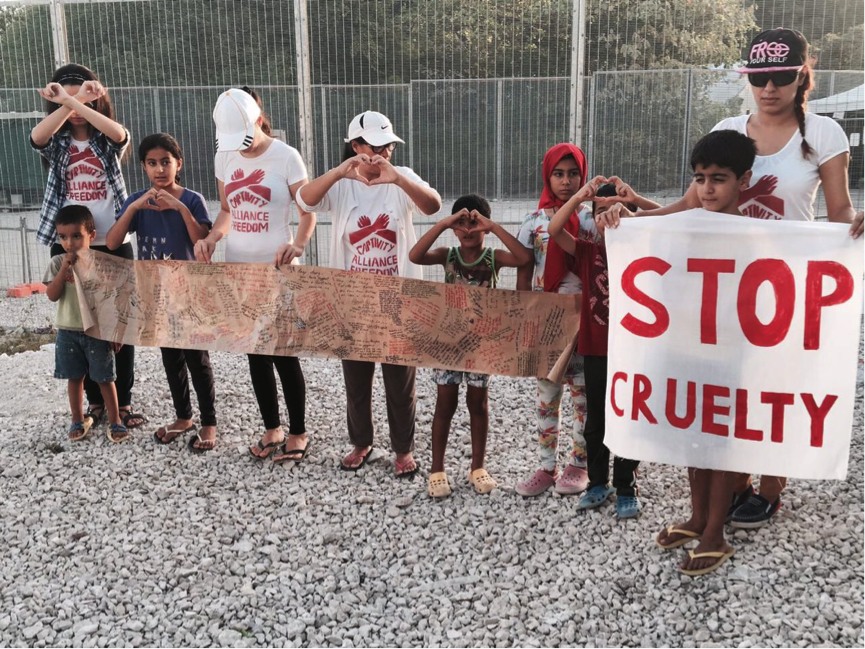 But, the daily protests are held behind camp fences because protests outside the fences are banned by Nauruan police, who have arrested protesters and confiscated phones from refugees recording the protests from outside the fences.
Refugees & the federal election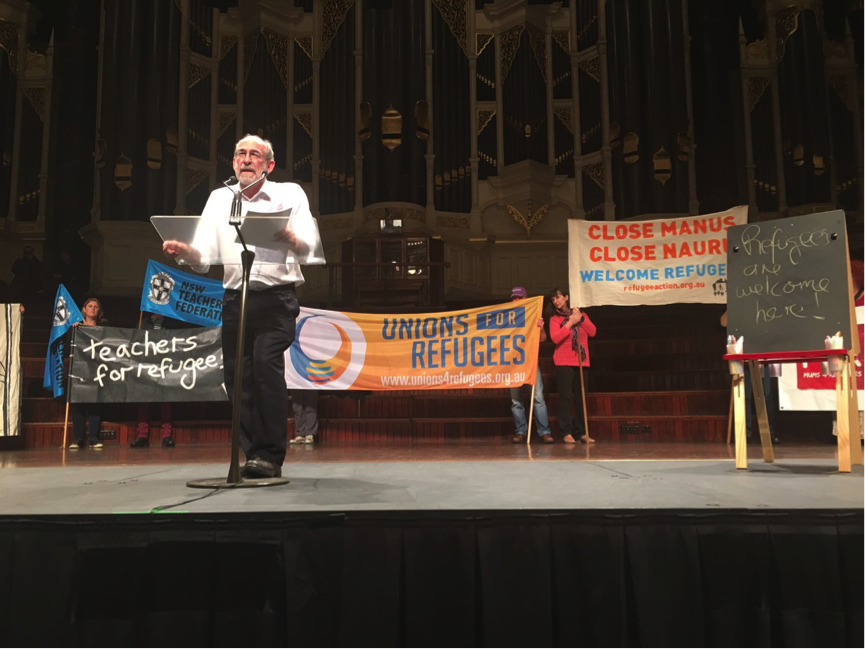 "The last days of the federal election campaign has seen Turnbull shamefully channel Tony Abbott's fear-mongering about 'boats and refugees' in a transparent and desperate effort to scrounge a headline and a few more votes," said Ian Rintoul, spokesperson for the Refugee Action Coalition (RAC).
The speak-out comes a day before the next sitting of PNG Supreme Court (Tuesday 28 June) that will  consider consequential orders to release all asylum seekers and refugees from Manus Island, and return them to Australia.
"The days of offshore detention are numbered, and the determined protests on Nauru have exposed the abuses inflicted on asylum seekers and refugees on the island.
"The government won't properly fund Medicare or education, but it spends over $400,000 per person, per year, to keep refugees imprisoned offshore. Yet Transfield (now called Broadspectrum) is one of the companies listed as 'paying no tax in 2013-14'."
Dutton plays the refugee card
In true Liberal fashion, as the election gets closer, and Turnbull sags in the opinion polls, they have reached for the 'refugee card'.
In a disgraceful, scare-mongering display, Immigration Minister Peter Dutton went on Sky News to declare that when it comes to refugees, "For many people, they won't be numerate or literate in their own language, let alone English. These people would be taking Australian jobs, there's no question about that.
"And for many of them that would be unemployed, they would languish in unemployment queues and on Medicare, and the rest of it."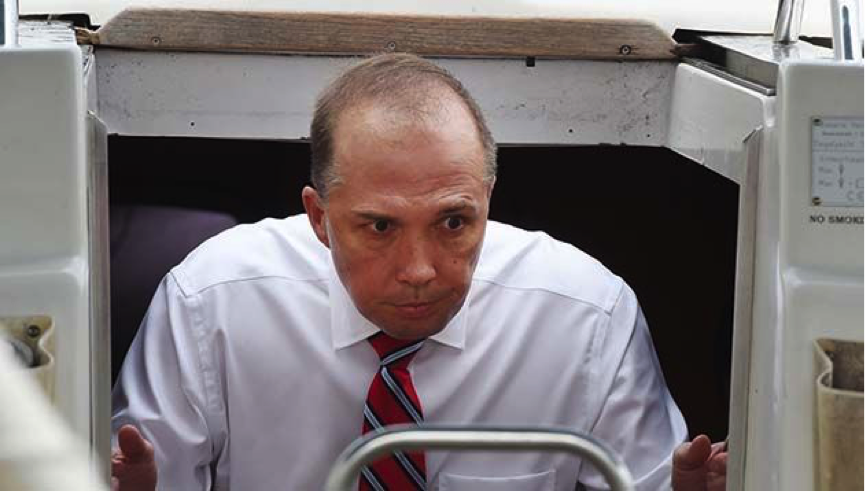 http://www.abc.net.au/insiders/content/2015/s4466940.htm
It was reminiscent of Kevin Andrews' attempt to play the 'race card' prior to the 2007 federal election, when he tried to scapegoat African refugees, saying: "some groups don't seem to be settling and adjusting into the Australian way of life". Before the 2013 election, another Liberal, Fiona Scott, notoriously claimed refugees were to blame for hospital queues and overcrowded traffic on the M4.
This time, Prime Minister Malcolm Turnbull wasted no time defending Dutton, calling him "an outstanding Minister."
But most people thought Dutton was racist, divisive, and wrong. Deng Thiak Adut, the Sudanese refugee chosen by Liberal NSW Premier Mike Baird to give the NSW Australia Day address this year, quickly responded, "I have voted Liberal ever since I could vote," but, "The Liberals have lost my vote because they are actively trying to deter the public from empathising with refugees."
Dutton's comments alienated established migrant and refugee communities, and brought widespread condemnation from ethnic community leaders. Even Channel 9 Today show host, Karl Stefanovic, lambasted Dutton.
Two days later, Dutton was not willing to repeat his claims about refugees taking Australian jobs. It was a good sign that he had gone too far and that anti-refugee slurs were not going to work for the Liberals.
Labor policy trouble
Labor leader Bill Shorten rightly condemned Dutton's comments, accusing Dutton of "insulting the migrant community" and reviving the "Pauline Hanson rhetoric of the past". But all he demanded was that Turnbull pull Dutton into line.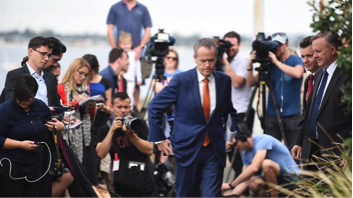 http://www.sbs.com.au/news/article/2016/05/18/dutton-would-make-hanson-p...
Shorten has been desperate to keep a low profile on refugee issues. He has promised to maintain offshore processing and continue the turning back of asylum seeker boats if Labor is elected. But an increasing number of Labor candidates—up to 21 according to The Australian—have been openly critical, or have been actively involved in things like the "Let Them Stay" campaign.
Sophie Ismail, Labor's candidate against Greens MP Adam Bandt, says: "I have concerns about turnbacks; I don't think they should be on the table." Murray Watt, the lead Labor Queensland Senate candidate, moved the resolution opposing offshore processing at the Labor conference last year. He says that he supports current Labor policy "for the election".
Even Shorten's rhetoric about offshore processing has changed. He now says that a Labor government would urgently seek third countries to resettle the people on Nauru and Manus Island. They won't find third countries. But the changed rhetoric has raised expectations that Labor will get the refugees off Nauru and Manus.
The failure of Dutton's refugee-baiting, and the cracks in Labor's policy, are a direct result of the campaign that the refugee movement has waged against the Liberals and against Labor policy.
Regardless of the election result, the campaign will have to fight hard to end offshore processing.
Ian Rintoul, Mark Goudkamp
Refugee Action Coalition (RAC)
http://www.refugeeaction.org.au/
This is 6th in the BloggerMe Series "who2vote4 & Y?"
A series of blogs by independent thinkers
on the coming Australian federal election 2016