Submitted by atko on Sun, 17/03/2019 - 11:02am
On the Other Side - Let's Look at allegations that surround Bill Shorten;
What you will hear when you talk inside the ALP about Shorten's "history" covers everything from "major fraud and theft" when he was Victorian and National Secretary of the Australian Workers Union (AWU), "raping another union member at a camp", "branch stacking to become a politician to improve the power of the AWU", and "getting one of his staff members pregnant".
To be fair these are allegations...but..
The Trade Union Royal Commission that went from 2014 to 2015 highlighted many crimes by Bill Shorten and the AWU when he was in charge. This should have been something that highlighted Shorten's unsuitability to be Prime Minister. But the Australian electorate have a short memory (no pun intended).
One example is the Chiquita Mushroom scam run by Shorten in the early 2000s where workers who worked as pickers at Chiquita Mushroom received lower wages in return for direct payments by their employers into the coffers of the the AWU. Shorten was the person who negotiated the deal directly with the owners of Chiquita Mushroom. The workers at the coalface who trusted the union knew nothing of the deal.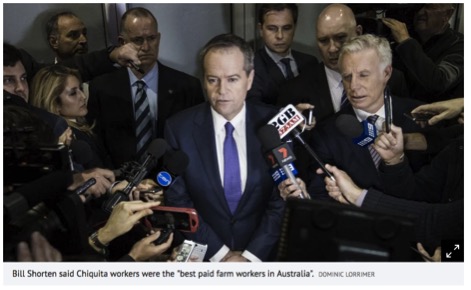 https://www.smh.com.au/politics/federal/chiquita-mushroom-workers-say-th...
Again at the Royal Commission: A cleaning company had an ethical dilemma over a proposed deal with the Australian Workers Union (AWU) that would save it millions of dollars in wage costs in exchange for making a "donation" to the union.
In inter-company correspondence it was revealed to the commission "For a saving of $1.5 million the company could make a donation of $20k to the union, in some way that we could hide". It has been alleged that the Cleanevent EBA left workers worse off by paying them lower penalty rates.
"And this man is a potential Prime Minister"?
How long has Shorten been in Parliament?
First Elected in 2007... Twelve years in Parliament...
TimesUp Bill time to go. Vote him out!
Share with your friends.. we can make a difference!